Vocational training institutes open in Kabul, Mazar, Herat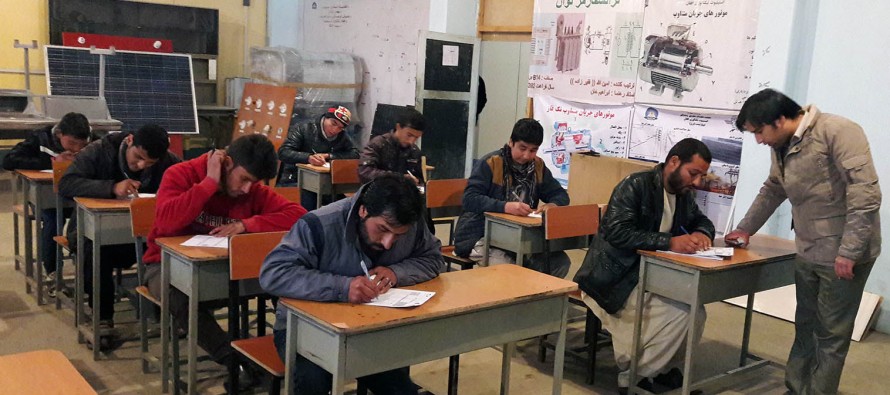 Vocational training institutes opened their doors again for 1200 apprentices upon the start of the new academic year.
After some institutes in Kabul held entry tests last week, Herat and Mazar-e Sharif followed suit and offered an orientation day on Saturday, during which this year's new apprentices were officially welcomed.
The apprentices receive theoretical and practical training at the different Technical and Vocational Education and Training (TVET) institutes. They all run the relatively new Ostad-Shagerdi training program, for which the German government has provided continuous technical and financial assistance.
The program aims at integrating apprentices of the informal sector into the formal Afghan education system. So far, certain professions, such as tailoring, carpentry, IT and electronic repair, were left out and apprentices often didn't have the chance to receive proper training. The Ostad-Shagerdi training program allows apprentices in these fields to acquire basic theoretical background of their profession and to get access to advanced technologies and to improve their job performance.
At the moment 12 institutes provide vocational education and training to over 1200 apprentices. A new vocational field, beauty parlor, has been added to the program, which will increase the number of female students.
The Director of the Ostad-Shagerdi Directorate, Mr. Mohammad Ashraf Wahdat, said at the reopening of a vocational training institute in Kabul, "The Ostad-Shagerdi training program strengthens the skills of young people. It acts like a bridge between education and work, where theory and practice merge. Furthermore, the program can engage the private sector to invest into our educational system."
The Ostad-Shagerdi training program was introduced last year, after an agreement was signed between Mr. Asif Nang, former Deputy Minister of Technical and Vocational Education and Training (TVET), Mr. Hassan Sepahi, Chairman of the Federation of Afghan Crafts and Trade (FACT), and Dr. Gustav Reier, Director of the Afghan-German Cooperation TVET Program. The German government supports the modernization of Afghanistan's apprenticeship system and has assisted all 12 pilot institutes to create a sound training environment; this includes the construction and renovation of schools, provision of equipment, drafting of curricula and textbooks, as well as the organization of training that is needed for teachers.
In close cooperation with the Afghan Ministry of Education, the German-financed TVET program promotes technical and vocational education and training in Afghanistan by establishing quality and sustainable, formal vocational school system. The goal is to help as many young Afghans as possible to acquire skills that will improve their chances of finding a job and earning a regular income.
---
---
Related Articles
Funded by the National Solidarity Program (NSP) of the Ministry of Rural Rehabilitation and Development (MRRD), 33 infrastructure projects were
Jalalabad Road, the heart of what might be called the Afghan capital's military-industrial complex, has also become the place where
Contracts for only 10,316 kilometers of Afghanistan's natural gas and oil reserves have been signed off, said Deputy Minister of