Wastewater treatment system for the Abdul-Rahman Great Mosque inaugurated in Kabul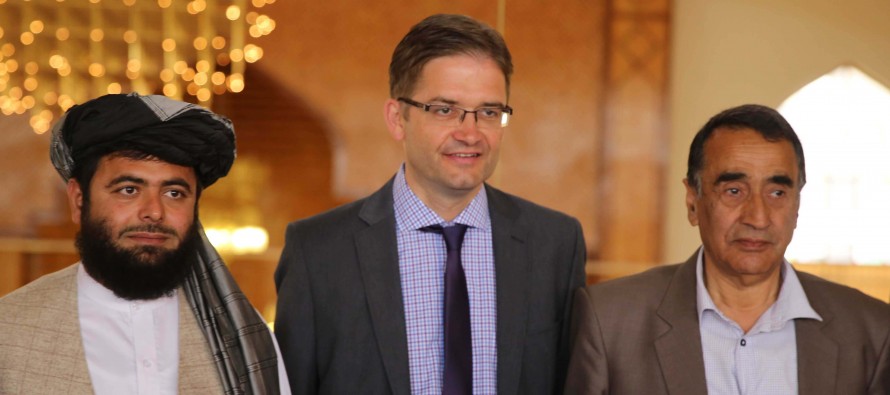 On June 19th, 2013 a decentralized wastewater treatment plant implemented by the German NGO BORDA was inaugurated at the Abdul-Rahman Great Mosque in Kabul. The German Deputy Ambassador in Kabul, Oliver Owcza, joined the Afghan Deputy Minister of Religious Affairs and Hajj, Al Haj Ab. Hakim Monib and Deputy Minister of Urban Development Affairs, Dip. Eng. Amruddin Salek for the opening ceremony in the heart of the Afghan capital.
The decentralized treatment system processes the wastewater of the mosque's lavatory system. It will be collected and reprocessed for garden irrigation. The system works on the natural principle of anaerobic digestion and does not require the use of chemicals or electricity. It can process wastewater produced by several thousand visitors a day and contributes to a more healthy and hygienic environment. "The principle of the German Government's assistantship to Afghanistan is both based on cooperation and capacity building", Mr Owcza concluded in his opening remarks. He added, that during the construction Afghan engineers had a hands-on training.
"I appreciate the help of the German NGO BORDA, which constructed the wastewater system in Abdul-Rahman Great Mosque", Minister Monib said. He pointed out that the Ger- man Government has a long history of assisting Afghanistan.
"Though this is a small project, it is a good foundation for the establishment of a wastewater treatment culture in Afghanistan", Minister Salek said. Wastewater and environmental is- sues were of great concern in a fast growing city like Kabul, he added.
The plant is financed by the Federal Republic of Germany and implemented by the German NGO BORDA. It will implement several pilot projects all over Afghanistan in the next years and aims to contribute to a better environment and health to the people of Afghanistan. All construction materials for the system were acquired locally, hence no imported goods were used.
The Abdul-Rahman Great Mosque, inaugurated on July 20th, 2012 by the Afghan President Hamid Karzai, was designed to serve more than 10.000 Muslim visitors per day. Herewith, the Abdul-Rahman Great Mosque is one of the biggest mosques in Afghanistan and Central Asia.
---
---
Related Articles
USAID Press Release-The Kabul Municipality inaugurated today the first Citizen Information Center (CIC) in Afghanistan.  The CIC is located within
Revenue of the Customs Department of eastern Nangarhar province has recorded 2.5bn Afghanis in revenues in the first quarter of
Pakistan's Economic Coordination Committee (ECC) approved permission of cotton imports from Afghanistan and Central Asian States via Torkham border—a major