'Way of Pen' society rallies to reopen schools in Kandahar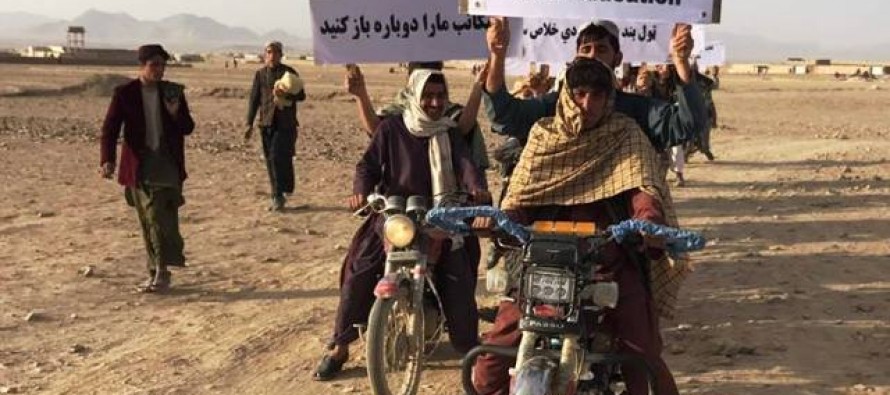 A society named 'Way of Pen' has launched a campaign in Spin Spoldak district of southern Kandahar province to reopen schools.
Matiullah Wesa, founder of the 'Way of Pen' society, initiated the campaign via social media in a remote area of Spin Spoldak, where no school exists.
Chanting "All closed schools should reopen; let girls be educated; we want books and pen", residents, influential figures and youth participated in the rally.
Wesa called on the government to hear the residents' voices and establish schools in the neighborhoods. According to Wesa, the public mindset towards educating their children has changed to a great extent.
"They no longer oppose schools and no longer want their children to live in ignorance," said Wesa.
Of 460 schools in Kandahar, 139 are shut due to insecurity and staff shortage. Not a single schools is functional in Shorabak, Registan and Ghorak districts.  Wesa links the problem to the poor performance of the education department and lack of a strong political will.
Wesa also cited poor teaching quality as another problems that caused students to stop attending classes.
'Way of Pen' society plans to extends its campaign to all 34 provinces of the country in an effort to promote education.
This comes as the Minister of Education told the Senate on Sunday that 1,005 schools had been shut across the country due to security threats.
---
---
Related Articles
In an exclusive interview with the Pajhwok Afghan News (PAN), Kandahar Mayor Mohammad Omar Omar said Kandahar needed 300km roads
The jujube yield has increased in western Farah province and has resulted in higher income for the farmers as the
Afghanistan's saffron received the 'World's Best' saffron award for the third time in a row from the International Taste and