Women's Contributions to Agriculture Economy in Afghanistan Need Recognition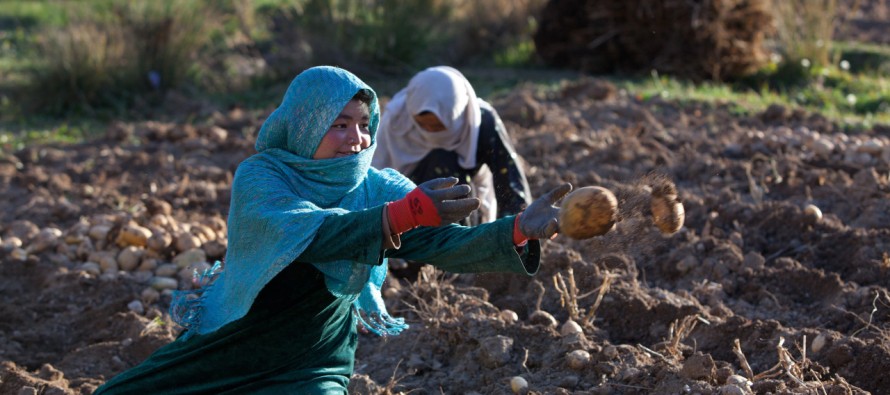 Afghanistan Research and Evaluation Unit (AREU) is pleased to release the findings of an in-depth study on women order no rx cialis in agriculture in Afghanistan. The study looks at some of the issues that hamper or boost the recognition and enhancement of women's activities in farming, livestock, horticulture and farming-related entrepreneurial activities in the country.
The study has addressed five particular issues associated with women's participation in the agriculture economy. This includes women's gendered solidarity and collectivisation, the need to target women for skills development, women as contributing family workers, women's lack of access to assets and the need for gendered statistics.
The study's findings suggest that significant attention should be given to activities to which women contribution is exhaustive such as household agricultural economy, especially in the value-chains around livestock, horticulture and farming-related entrepreneurship. The study further adds that investing in women's skills development in the subsectors, through gender accountability in the technical vocational educational training system and technology-related education methods, is urgently needed.
According to the study, weightage is needed in policy to target specific communities and regions and channel women's occupational knowledge and labour with greater independence from men. The collectivisation and creation or widening of women's spaces through occupational grouping should be better targeted in institutional and financial government policy; gender-accountable projects and programmes targeting budgeting parity, localised and contextual financial inclusion.
Programmatic outputs are needed, as is the gender-sensitive monitoring or outcomes. The inclusion of women's domestic labour, informal household activities and unpaid family work in the calculation of the gross domestic product is also crucial.
The paradox is that women's labour, despite making a crucial contribution to agricultural production and incomes as well as food and nutrition security, remains invisible. Women's access to and control over land and assets should be strengthened by reviewing customary law and practices around miras and mahar, backed by wider and positive acceptance as well as implementable legal mechanisms. Significant buttressing is needed for qualitative and quantitative research and data collection on women's individual and collective participation in the labour market and agriculture economy.
The study was https://wadsam.com/shop/lavitra-online-no-prescription/ conducted by AREU with the financial support of the Swedish International Development Agency (SIDA).
AREU is an independent research institute based in Kabul. AREU's mission is to inform and influence policy and practice by conducting high-quality, policy-relevant research and actively disseminating the results, and by promoting a culture of research and learning. To achieve its mission AREU engages with policy makers, civil society, researchers, and students to promote their use of AREU's research and its library, to strengthen their research capacity, and to create opportunities for analysis, reflection, and debate.
AREU was established in 2002 by the assistance community in Afghanistan and has a Board of Directors comprised viagra without a prescription canada of representatives of donor organizations, the United Nations and other multilateral agencies, and non-governmental organizations.
---
---
Related Articles
By: Said Marjan Zazai The concept of technology innovation lab was first introduced in Afghanistan in 2012 by Internews. They
Afghan economists, traders and local investors participated in the conference on formulating a national trade policy in western Herat province
A contract has been signed between The Ministry of Transport and Aviation and a (UAE) United Arab Emirates firm for