Women's handicrafts exhibition kicks off in Kabul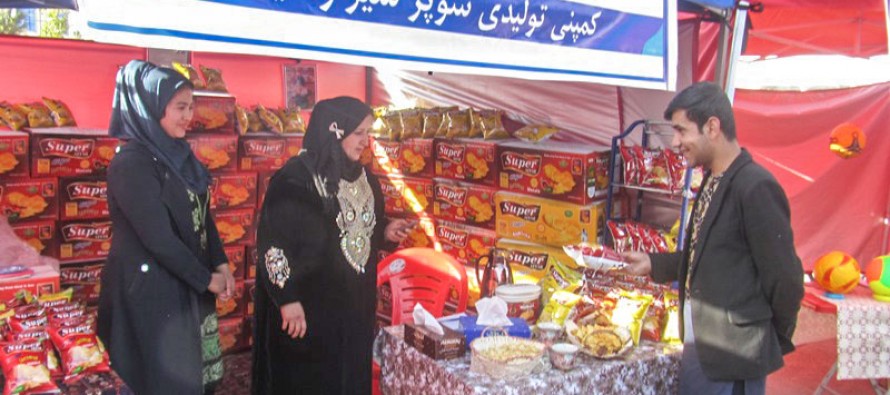 Afghan businesswomen will display their products at a three-day exhibition in Kabul starting on Wednesday.
Hosted by the Ministry of Commerce and Industry (MoCI) at the Aria City Faz, more than 36 women-led enterprises will display clothes, jewelry, agricultural products, rug, jams, and handicrafts. The German Program for Sustainable Economic Development and Employment Promotion (SEDEP) has provided financial and technical support for the event.
The organizers called on the government to provide a permanent place for women's exhibitions.
Meanwhile, Deputy Commerce and Industry Minister Mohammad Qurban Haqjo said the government supported craftswomen and addressed their problems.
Afghan businesses led by women produce a wide range of goods highly demanded by local markets. However, women are often not able to offer their products in person. The Women Weekend Bazaar creates a unique opportunity, allowing them to directly sell to customers. Without middlemen or traders, the company owners generate higher profits which can contribute to job creation and business investments.
 "We came to this bazaar to establish new business contacts and we have been very successful so far: Two orders have already been placed with us – one of them being a major order. We will deliver 200 cartons of chips to Jabalus Saraj district in Parwan province," Ms Kobra Ali Faeq, a chips producer highlighted. However, the bazaar can also positively impact the women's product development. The special marketplace allows the female entrepreneurs to directly interact with customers. In doing so, they receive immediate feedback regarding their products' quality and customers' demands. Such interactions can trigger further improvement of their products. However, also the exposure to other business owners, the comparison with them as well as businesswomen's exchange of ideas can potentially lead to innovations – new designs for instance.
Ms Naseema Hameedi, an embroidery and bed sheet producer, underlined: "It is very important for us to be part of the Women Weekend Bazaar, as we get to know other businesses led by women. This allows us to learn from other experiences."
The project "Sustainable Economic Development and Employment Promotion" (SEDEP) is financed by the German government and supports various activities to strengthen businesses and create jobs in Afghanistan in the following five value chains: nuts, dairy, poultry, wheat and vegetables. Apart from training and infrastructure development initiatives, the project also helps to establish dialogues between public and private sector actors. Farmers and government can address concerns and draft policy recommendations to improve economic opportunities.
---
---
Related Articles
Experts from across the globe, keeping into consideration the current changes in the environment of the Earth and excessive exploitation
With the implementation of a water transfer project, three million residents in Kabul will have access to safe drinking water.
Fifty-one welfare projects have been successfully completed in Muqur, Qala-e-Naw and Qadis districts of Badghis province. Costing 3,761,465 AFN, these