Women's training center opens its doors in Taloqan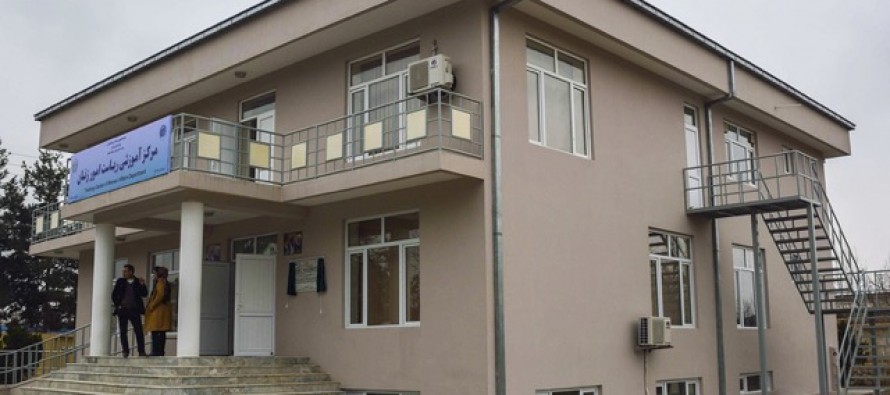 The Department of Women Affairs (DoWA) and the Takhar Provincial Governor's Office officially opened a new women's training center in Taloqan, Takhar's capital.
The training center lets the DoWA and stakeholders like women shuras and business associations offer women training they need to improve their job prospects. It also creates a space for the department to promote gender equality and increase an understanding that women need to participate in public life to help in the country's development.
The women training center received about AFN 22.5 million in funding from the German government.
Every year, around 1,850 women and 350 men can benefit from a range of courses and classes that the center offers. By including men in classes, the center can contribute to greater awareness of women's rights in the workplace. They can help spread acceptance among other men in society that all citizens have equal rights and duties before the law.
Courses at the training center have started and include subjects like reporting and report writing, English, IT, accounting, human rights, filing, marketing, procurement and office and financial management. These help both women and men improve both their skills and job opportunities in Takhar.
Ms. Razmara Hawash, head of DoWA in Takhar, said at today's official opening ceremony, "One of the major challenges for women in Takhar was the lack of opportunities to improve their potential. This training center will better prepare them for employment." Dr. Frank Pohl, German Development Commissioner, added, "The investment in Afghan women will improve the well-being of families and the society as a whole. This will contribute to a brighter and more peaceful future for Afghanistan".
Besides educational opportunities, the center will also serve as a forum for dialogue and an exchange of ideas. It will provide an open space to host events on important topics like legal awareness, violence against women, women rights or healthcare.
The building consists of three floors and has several training rooms, administration offices, a conference hall, a meeting room and a kitchen. It is also equipped with a basic IT facility.
In 2010, DoWA first proposed constructing the building. The proposal was accepted as a priority project by the Provincial Development Committee (PDC). Construction was accomplished with financial assistance from the German Ministry for Economic Cooperation and Development (BMZ) and technical support from its regional capacity Development (RCD) program.
Ms. Hawash, Dr. Pohl together with Dr. Yasen Zia, Governor of Takhar and Ahmad Zia Massoud, Special Representative of the President for Reform and Good Governance, celebrated the opening of the training center, together with more than 250 representatives from the province's line departments, the Provincial Council, civil society activists, women activists, entrepreneurs and community leaders.
As part of Germany's cooperation with Afghanistan, the Regional Capacity Development (RCD) program is financed by the German Federal Ministry for Economic Cooperation and Development (BMZ) and implemented by Deutsche Gesellschaft für Internationale Zusammenarbeit (GIZ) GmbH. In six provinces in northern Afghanistan, RCD supports its partners' development priorities in the provinces and districts, while at the same time providing training and coaching programs for civil servants. With its broad range of activities, the program aims at increasing Afghan ownership of the development process, strengthening state institutions and promoting transparency and inclusiveness.
---
---
Related Articles
Three Indian health organizations signed contracts with an Afghan health company at the Ministry of Public Health (MoPH) to expand
The Afghanistan Chamber of Industries and Mines (ACIM) officially started functioning on Monday, four days after its inauguration by President
Asphalting of Road 2 of Guzarah District and Pashtoon Zarghoon District began on Wednesday. The project costs more than USD