Women's Training Centre inaugurated in Balkh Province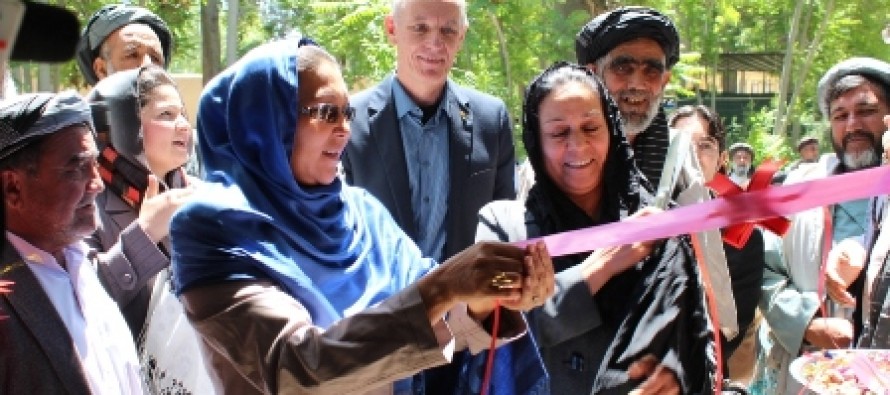 On Friday, 1st May 2013, a Women's Training Centre was inaugurated in Balkh order viagra or levitra District of Balkh province. The acting director of the Provincial Department of Women's Affairs, Mrs Rabia Moradi, the District Governor of Balkh, Mr Temor Shah Payeez Ms. Shekiba Shekib, Secretary of Provincial Council and levitra prescription drugs Ms. Sharifa, Director of Women Council in why does levitra not work Balkh district attended the ceremony. Representatives from the provincial government of Balkh and of the Afghan-German Cooperation were also present.
The women's training centre in Balkh was established by the Department of Women's Affairs (DoWA), with strong support from the District Governor's Office and cherche site levitra the District De-velopment Assembly. The centre is part of a larger project called "Capacity Development for women and addressing their problems at the district level". The project also provides for campaigns, trainings and advice for women and men in three districts of Balkh province. Two further training facilities will be constructed as part of the scheme.
The project aims to enable women and girls in the districts to access services provided by the government and make them aware of pfizer viagra 50mg their rights. The trainings conducted at the training center focuses on issues such as family planning, gender equality and health care. It is set up to enable women to participate in society. It also enhances literacy and strengthens income opportunities.
The Provincial Development Committee (PDC) of Balkh decided to implement the project, which is supported by the Regional Capacity Development Fund (RCDF) Balkh. As part of the Afghan-German Cooperation, the RCDF is implemented by Deutsche Gesellschaft für Internationale Zusammenarbeit (GIZ) GmbH and funded by the German Federal Ministry for Economic Cooperation and Development (BMZ) finances the scheme.
In five Northern provinces of Afghanistan, the RCDF is supporting its Afghan partners at provincial and district level according to their development priorities. The fund also pro-vides training and coaching programmes for civil servants. With its broad range of activi-ties, the RCDF programme aims to increase Afghan ownership of the development process, strengthen Afghan state institutions at subnational level and promote transparency and inclusiveness.
---
---
Related Articles
Afghan Ministry of Energy and Water (MEW) signed a contract with an Indian company, Gammon India, for a power project
With the Eid-ul-Adha approaching, thousands of goats, cows and sheep are brought into the markets in Peshawar to sell. Hundreds
The Ministry of Commerce and Industry says that Afghanistan's exports to China increased to $24.93 million in the first quarter