Women's training centre & market opens in Badakhshan with German funding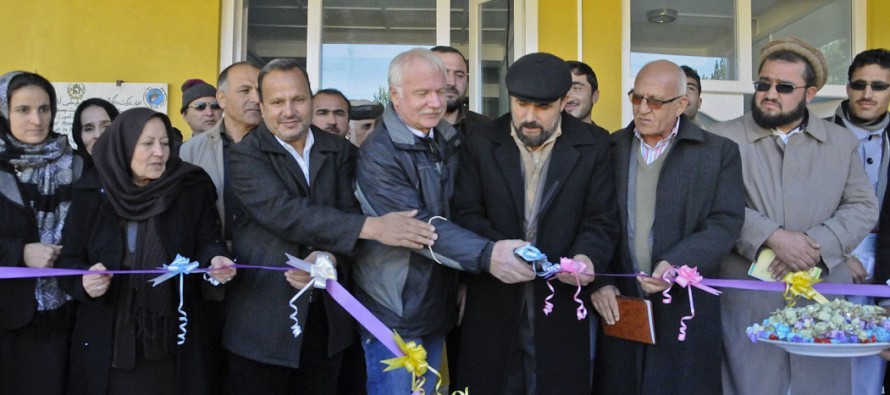 Badakhshan's Department of Women Affairs and the Provincial Governor's Office celebrated the official opening of the Women's Training Centre and Women's Market in Faizabad, the provincial capital on Sunday.
The training centre and market were planned and built by the Department of Womens' Affairs (DoWA) at a cost of AFN 24 million, funded by Germany.
The aim of the training centre is to put DoWA and its stakeholders in a better position to promote gender equality, deal with women's affairs as a cross-cutting topic throughout various issues in Badakhshan and provide women leaders with the capacity they need. The training centre will focus on issues such as legal awareness, violence against women, women's rights, English language skills, computer and management skills and healthcare. The women's market next door will give local businesswomen new space and opportunities to market their goods and services in Faizabad, not possible until now. It will also help generate local employment.
Speaking at the opening ceremony, Mrs. Zofonoon Hasam Natiq, head of the local women's affairs department, said, "One of the major challenges women face in Badakhshan is a lack of training possibilities and a forum to both learn new skills and market their goods and local produce. In Faizabad, the women's training centre and women's market are both part of a high-priority initiative that will help build women learn how to addresses the challenges they face in their districts and communities. With better skills, women can grow domestic production and provide employment for women and men in Faizabad and in the 27 districts of Badakhshan province."
Dr. Shah Wali Allah Adib, Acting Governor of Badakhshan, and Mrs. Zofnoon Hasam Natiq were joined by more than 100 representatives from Badakhshan line departments, provincial council, civil society activists, women activists and entrepreneurs, community leaders, elders and religious leaders. Representing German Cooperation with Afghanistan, Dr. Frank Pohl, BMZ Development Commissioner, also took part in the event. The one-story building consists of 3 training classes, 2 administration offices, a kitchen, 10 shops, sanitary rooms, deep well, boundary wall and is equipped with basic IT and office equipment as well.
The blueprint for the women's training center and market was first drawn up in 2006 by DoWA in close cooperation with the Provincial Governor's Office (PGO) in Faizabad. In 2011, the proposal was prioritized and decision for construction of the building was made by the Provincial Development Committee (PDC). The department managed this project with support from the Regional Capacity Development Fund (RCDF) and financed by the German Federal Ministry for Economic Cooperation and Development (BMZ).
As part of Germany's cooperation with Afghanistan, the RCDF is implemented by Deutsche Gesellschaft für Internationale Zusammenarbeit (GIZ) GmbH. In six northern provinces, the RCDF supports the development priorities of its Afghan partners in the provinces and districts, while at the same time providing training and coaching programs for civil servants. With its broad range of activities, the RCDF aims to increase Afghan ownership of the development process, strengthen Afghan state institutions in provinces, districts and villages, and promote transparency and inclusiveness.
---
---
Related Articles
Seventy members of the Lower House of the Parliament or the Wlesi Jirga signed papers on Saturday for summoning nearly
Afghan authorities and the Afghan-German Cooperation signed a contract for the reparation and rehabilitation of the Gurg irrigation canal in
Local officials in Jawzjan province say the port of Keleft, the third largest port between Afghanistan and Turkmenistan, will be