Work on new environmental training centre starts in Kunduz with German funding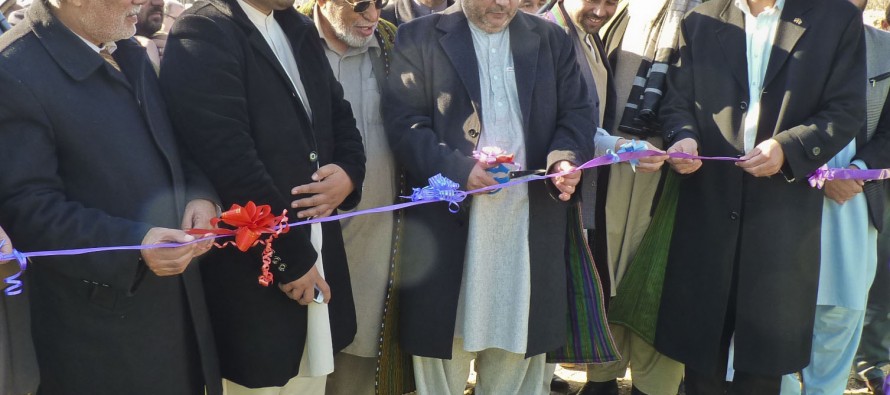 Construction work has begun on a new building for the National Environmental Protection Agency (NEPA) in Kunduz.
The building will include a new environmental training centre for the agency to teach stakeholders about environmental protection and awareness. The AFN 24 million in funding for the building work came from the German government.
Speaking at the cornerstone laying ceremony Mr.SadruddinSayah, Director of the Kunduz branch of NEPA, said, "Promoting environmental education is a part of a broader NEPA goal to increase awareness in Afghanistan. Without a proper place we would not be able to achieve this goal." He added, "Protecting the environment and practicing urban regulation are not only the responsibility of local government. Everybody must make an effort to come together and create a better society for future generations."
Currently NEPA in Kunduz lacks an administration building and works from a rented house. The environmental training centre in the new building will be used to disseminate environmental awareness and knowledge that are suitable to protect and rehabilitate the environmental conditions in the Province. Over three floors, the new NEPA building will have 10 rooms for administrative offices and a training unit office as well as two large conference rooms for community gatherings and trainings.
NEPA serves as Afghanistan's environmental policy-making and regulatory institution. Its role is to regulate, coordinate, monitor and enforce environmental laws. The agency has a major role to play in environmental protection.
This project idea and was proposed and developed by NEPA and approved by the Provincial Development Committee (PDC) in Kunduz. The project received financial and technical aid from the Regional Capacity Development Fund (RCDF), which is funded by the German Federal Ministry for Economic Cooperation and Development (BMZ).
As part of Afghan-German Cooperation, the RCDF is implemented by Deutsche Gesellschaft fürInternationale Zusammenarbeit (GIZ) GmbH. In six Northern provinces of Afghanistan, the RCDF supports the development priorities of the Afghan partners at the provincial and district level, while providing training and coaching programs for civil servants. RCDF aims to increase Afghan ownership of the development process, strengthen Afghan state institutions on the subnational level and promote transparency and inclusiveness.
---
---
Related Articles
The Afghan private sector will invest USD 30mn in the establishment of five smelting factories across Afghanistan. The factories are
Nestled among the bustling streets in Ghazni City, children come and go through a small gate.  The gate leads to a
Residents of northern Kunduz province alleged that the uplift funds were executed to serve the interest of the National Solidarity