Work on the construction of a health center inaugurated in Baghlan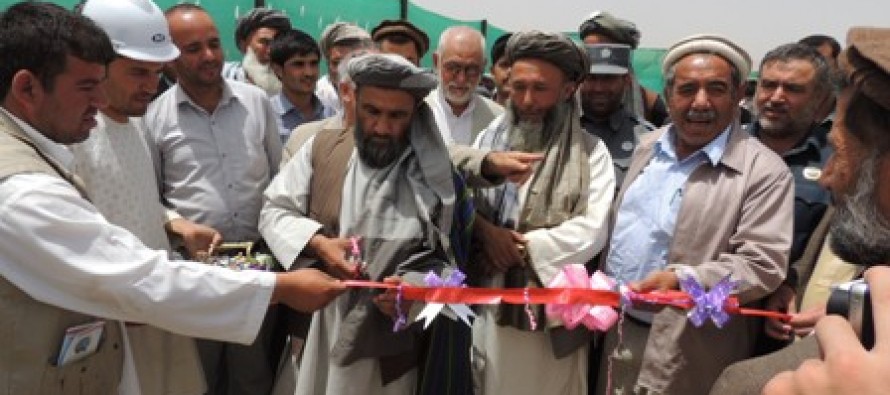 On 17 June 2013 the cornerstone laying ceremony for the Arakesh Basic Health Centre of the Baghlan Department of Public Health (DoPH) was held in Nahreen District. The ceremony was at-tended by Mr. Abdul Fata, the Deputy Governor of Nahrin district and Dr. Nazim Samadi Adviser to the Department of Public Health (DoPH), members of the Provincial Council and the District Development Assembly, and representatives from the Baghlan provincial government and the German Cooperation with Afghanistan.
The Basic Health Centre will have ten rooms comprising the examination, treatment, delivery, vaccination and pharmacy departments. The Centre is being realized by the DoPH Baghlan. Once construction is completed in 2014, the health facilities will enable the delivery of better and higher qual-ity services for 15,000 residents of Nahreen District. New facilities, like a delivery room and a health and nutrition room, will improve the overall health of children and mothers and reduce their mortality rates. The Centre will also help prevent and control infectious and non-infectious diseases and provide hygiene and infection prevention education.
The project is estimated to cost nearly 17 million AFN. The implementation of the project was de-cided by the Provincial Development Committee (PDC) Baghlan and supported by the Regional Capacity Development Fund (RCDF) Baghlan, which is financed by the German Federal Ministry for Economic Cooperation and Development (BMZ).
As part of the German Cooperation with Afghanistan, the RCDF is implemented by the Deutsche Gesellschaft für Internationale Zusammenarbeit (GIZ) GmbH. The RCDF is supporting the develop-ment priorities of the Afghan partners at provincial and district level in six northern provinces of Afghanistan, while at the same providing training and coaching programmes for civil servants. With its broad range of activities, the RCDF aims to increase Afghan ownership of the development pro-cess, strengthen Afghan state institutions on sub-national level and promote transparency and in-clusiveness.
---
---
Related Articles
The National Solidarity Program (NSP) of the Ministry of Rural Rehabilitation and Development (MRRD) completed implementation of 10 development projects
Afghanistan's next election is scheduled for April 5, 2014, and preparations for elections are in high gear. The Independent Election
A major bridge, 45m long and 54m wide, is going to be built in the 16th police district of Kabul