Workshop on "Landmark Resolution on Women, Peace and Security" held in Badakhshan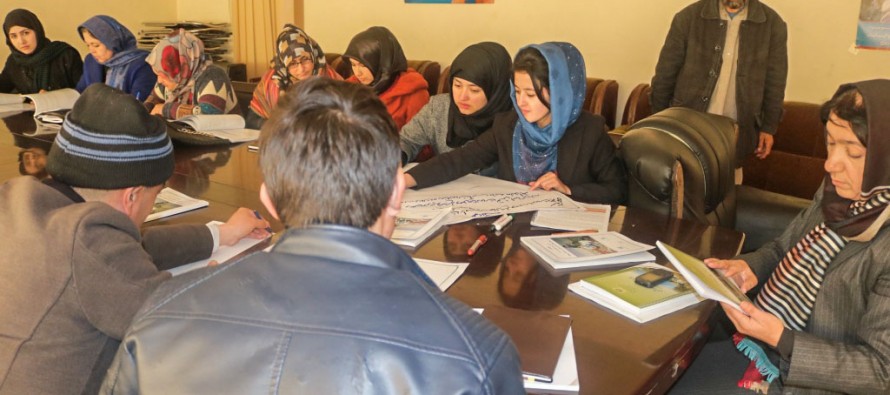 Badakhshan's Department of Justice held a workshop on the United Nations resolution 1325: "Landmark Resolution on Women, Peace and Security" for 34 government and civil society representatives.
The Afghan-German Cooperation supported the workshop via its program for the promotion of the rule of law in Afghanistan (RoL).
"All citizens should know about the importance of this resolution. The Afghan government should perform according to international regulations. The participation of women should not be symbolic only. Women should be assigned to decision making positions in different sectors", said Dr Anis Gul Akhgar, Gender Specialist at the Governor's Office.
This UN resolution reaffirms the important role women play in preventing and resolving conflicts, peace negotiations, peace-building, peacekeeping, humanitarian response as well as in post-conflict reconstruction. It stresses the importance of their equal participation and full involvement in maintaining and promoting peace and security.
Participants discussed whether the Afghan Government acts in accordance with the UN resolution on women's roles in conflict and conflict management and if improvements can potentially be made.
On behalf of the German Federal Ministry of Economic Cooperation and Development (BMZ), the Afghan-German Cooperation has been working together with the Afghan government to promote rule of law in Afghanistan. Since 2003, the project has been supporting the Ministry of Justice of Afghanistan in its efforts to ensure access to justice for all citizens. This is done through supporting better access to justice as well as improving the professional capacity of justice sector staff. At the same time, legal awareness of citizens is strengthened. The program specifically focuses on strengthening the rights of women and the access to justice for them.
---
---
Related Articles
Aqina's Customs Department has reported a 21% increase during the first six months of 2013. Head of the Department Abdul
Indian Consular General in Herat, Amarjit Singh, said the Indian government has vowed to complete the long-awaited Salma Dam project
Ariana Airline faces USD 10mn in fines from a court in the United Arab Emirates (UAE). Afghanistan Ministry of Transport