Workshop on girls' education held for Afghan Ministry of Education officials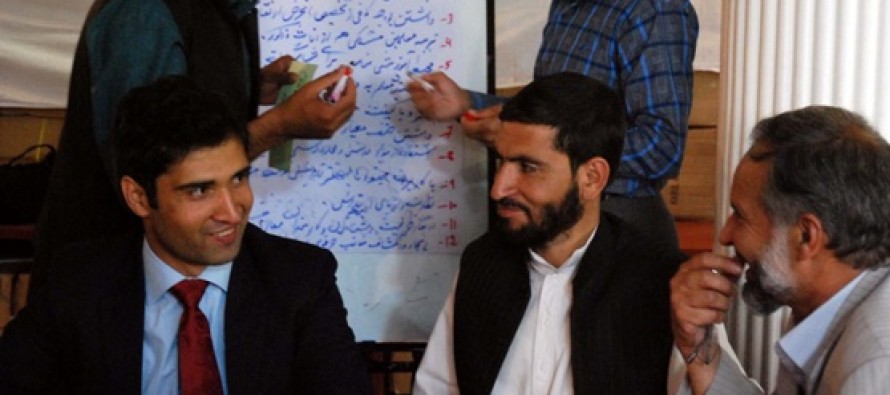 On Sunday, June 9, staff members of the Teacher Education Directorate (TED) at the Afghan Ministry of Education (MoE) attended a workshop facilitated by the Basic Education Program for Afghanistan (BEPA) in Kabul. The 25 Participants analyzed how they could make use of knowledge recently acquired at an introductory workshop in early April. The training aimed to sensitize the ministry officials on the pressing issues of gender with a particular focus on girls' education.
17 female and eight male participants focused on the concepts of "Women in Development" and "Gender and Development." These underline the importance of including women in development programs and the benefits of equal rights and participation of women and men for the economic and social development of a state. The Director of Curriculum and Criteria at TED stated that "Women are strong enough to carry out the same jobs as men. Present-day Afghanistan has demonstrated that quite well."
Two experts from development organization BRAC International Afghanistan presented an ex-ample of successful gender mainstreaming in the education sector of an Islamic country like Bangladesh. A trainer for lecturers at Teacher Training Colleges reported that the Gender Analysis Matrix was "a useful instrument to help lecturers analyse gender-related issues within their TTC" and has actively included it in her training sessions. This basic tool to examine a given social issue with a special focus on gender equity and equality had been introduced in the first part of the workshop.
The situation of girls' education in Afghanistan remains very difficult. A 2011 study carried out jointly by 16 Afghan and international NGOs working in education entitled "High Stakes: Girls' Education in Afghanistan" shows that economic constraints, early and forced marriage, the dete-rioration of security, long distances to school, lack of infrastructure, as well as a substantial lack of qualified female teachers are the main obstacles to girls' education. As a result girls either do not attend school at all or drop out after grade four, five or six.
TED has developed a gender strategy entitled "Closing the Gap". It represents the directorate's strategic approach to achieving gender equality in teacher training and thereby addressing the acute shortage of female teachers across Afghanistan. In 106 of the 364 Afghan districts there is only one or no qualified female teacher at work. This lack of female teachers represents the ma-jor obstacle to girls' access to education, whose parents often object to male teachers instructing them at school.
With national partners, the MoE in Kabul and the respective provincial departments, the BEPA project as part of the Afghan-German Cooperation has set itself the goal of establishing a sound foundation for teacher training in Afghanistan. On behalf of the German Federal Ministry for Economic Cooperation and Development (BMZ) and the Swiss Development Cooperation (DEZA) the Deutsche Gesellschaft für Internationale Zusammenarbeit (GIZ) GmbH has been helping the Afghan Government put in place the conditions for improved pre- and in-service training since 2005.
---
---
Related Articles
 Roshan, Afghanistan's leading total communications provider, and Western Union, a leader in global payment services, have today jointly launched the
Sheberghan city's first bus station was inaugurated today after 5 months of construction work. The facility is funded by Regional
Turkmen President Gurbanguly Berdynukhamedov has ordered to begin work on the construction of the much-awaited Turkmenistan-Afghanistan-Pakistan-India gas pipeline. Holding the world's