World Bank grants USD 50mn for economic growth and fiscal sustainability in Afghanistan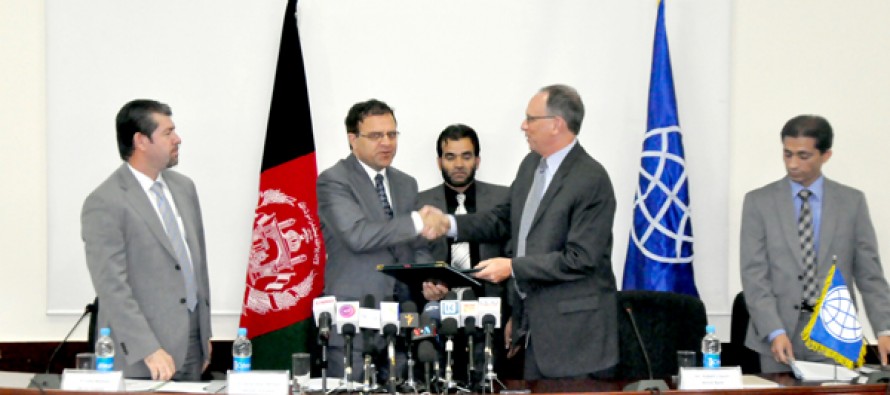 A USD 50 million grant, to finance to the Government of Afghanistan's efforts for promoting economic growth and fiscal sustainability, was signed today between the Ministry of Finance and the World Bank. The grant is being provided by the International Development Association (IDA) – the World Bank's concessional lending arm.
The Development Policy Programmatic Series: "Promoting Economic Growth and Fiscal Sustainability", which is a series of two programmatic grants, aims at supporting policy reforms in selected areas critical to strengthening revenue mobilization and improving the enabling environment for investment in sectors with a high growth potential. To this end the operation supports legal, regulatory and institutional reforms in customs, land administration and management, mining, and information and communication technologies (ICT).
"Development policy grants assist the government in furthering reforms in key institutions and processes for enhanced service delivery and increased reliance on its own resources while providing discretionary funds to finance government's development agenda," said Dr. Omar Zakhilwal, Finance Minister of the Islamic Republic of Afghanistan. "We thank the World Bank for its continued partnership in our development efforts."
The reforms supported by the project respond to some of the most important development challenges Afghanistan will face during transition and beyond including sustaining growth, alleviating poverty and increasing employment opportunities.
"Developing and implementing policy reforms are essential for attracting investments in all sectors, particularly those with high growth potential," said Bob Saum, World Bank Country Director for Afghanistan. "Despite challenges and endemic security implications, Afghanistan's development track record over the past decade is commendable. Of note, these achievements include rapid economic growth and significant improvements in public financial management."
By 2015, the results of the project are expected to increase customs revenue, improve the enabling environment for private investment in mining and ICT sectors, decrease the prices for GSM broadband services, improve the legal and regulatory environment for land management and administration as well as produce more opportunities for cost-saving in public infrastructure projects.
The Ministry of Finance (MoF) will be responsible for overall implementation and monitoring of the reform program.
---
---
Related Articles
Pistachio yield in Badghis, Afghanistan's leading province for pistachio cultivation, has declined by 50%, officials have reported. Covering about 30,000
Surveys have found sums of various natural resources in Bamyan province. According to the Bamyan Mines Department, the findings of
The Afghan Ministry of Mines and Petroleum has signed 86 mining contracts with different private sector companies during the past