World Bank Group Youth Summit 2016 winners build two computer labs in Afghanistan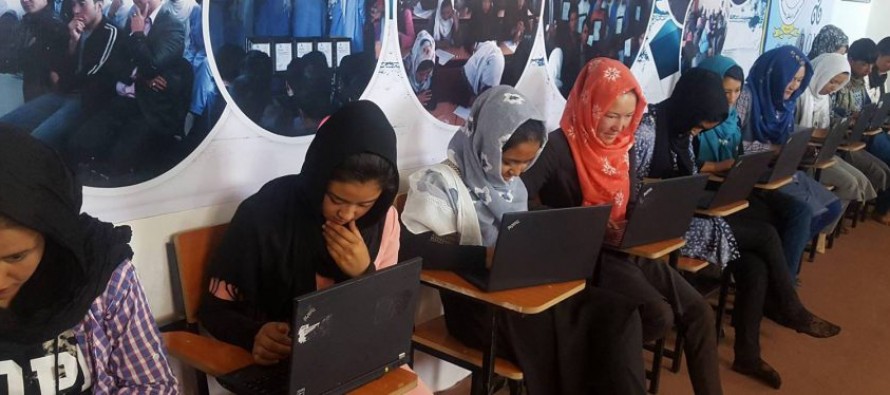 This time last year, more than 400 excited youth filled the Preston Auditorium for the World Bank Group Youth Summit 2016: Rethinking Education for the New Millennium.
After receiving 875 submissions from young entrepreneurs, the Youth Summit Organizing Committee (YSOC) chose six finalists to pitch their ideas in front of a live audience and expert jury. ROYA Mentorship Program was one of two winners who received the grand prize to attend the International Council for Small Business 2017 World Conference in Argentina, funded by the World Bank's Information and Technology Solutions (ITS)-Global Telecom unit.
The yearly conference brings together the world's foremost specialists and thought leaders in entrepreneurial research to support management education for small businesses.
ROYA is a mentorship program that supports underprivileged Afghan students in learning the English language and basic computer skills. Students receive computer training by volunteer instructors. While in beautiful Buenos Aires, the ROYA team attended workshops and panel discussions about business model innovation, social entrepreneurship, start-up funding, visited Argentinian incubators, and learned from the mistakes of other entrepreneurs.
ROYA gave elevator pitches promoting their program to tycoons and business officials. The team met with host project manager, Dr. Maria Fernanda Andrés, who is passionate about replicating their program for youth in rural Argentina. The team also leveraged the conference to gain supporters, teachers, and sponsors for their program.
Following their big win at the Youth Summit and learning experience in Argentina, the ROYA team opened two new computer labs, one in Bamyan and another in Kabul, in January 2017. The World Bank's ITS VPU, with funding by IFC Treasury, donated 15 laptop computers to each of Roya's new labs. The team said the additional computers has allowed the program to establish permanent classes, and permit students to have more flexible computer access.
Due to limited electricity in Afghanistan, classes occasionally must be cancelled. However in May, ROYA was able to purchase a satellite dish and wireless access points to enable students to connect computers to the internet, a simple task they were previously unable to do.
For language learning, ROYA students follow an English program called American English File by Oxford University Press. The textbooks used in class come with a CD which includes videos, assignments, practice exercises, and assessment tools. Before receiving laptops from the World Bank, students were not able to benefit from the supplemental resources from the CDs. ROYA students practice dictation, listening, reading, and writing. Three days a week, students also learn typing skills and proficiency using Microsoft Word and Gmail. ROYA is working on a subsequent plan where teachers can begin training students on other practical software programs.
The two new labs are named JZ's Tech Zone, in honor of one of their volunteer mentors, Jamshid Zafar. Jamshid was killed one year ago, in a terrorist attack at the American University of Afghanistan. Jamshid's father attended the Bamyan opening ceremony, and in Kabul, the opening ceremony was attended by the late mentor's uncle. Jamshid's former classmates in the U.S. created a memorial fund in his name and donated to ROYA Mentorship Program which funded the two new labs.
---
---
Related Articles
Three infrastructure projects that enabled a large number of families to gain access to basic human needs have lately been
The prolonged dry weather has hit the livestock of thousands of households in the Kang district of southwestern Nimroz province
As many as 170 development projects were completed under the National Solidarity Program (NSP) in northern Kunduz province. The projects