Young Afghan artists to compete for Afghan Contemporary Art Prize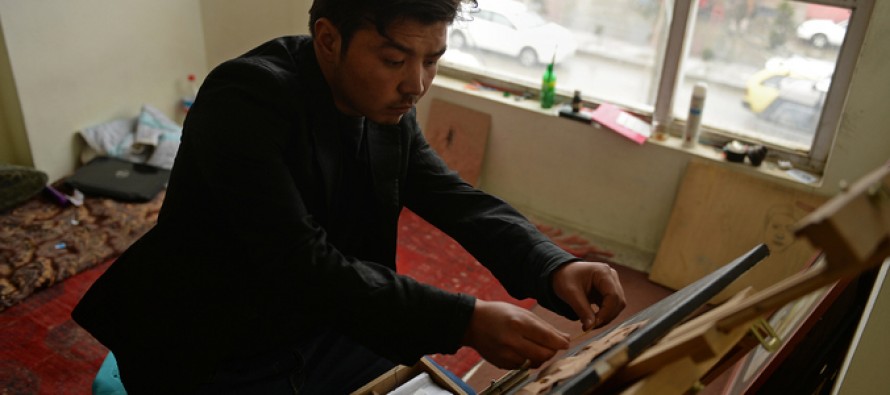 Young Afghan artists are prepping themselves for the Afghan Contemporary Art Prize competition that is held every year to encourage local artists to bring in creativity in their work and go beyond the traditional marketplaces and landscapes' sketches.
These artists would come as a surprise to international connoisseurs when they represent their never-seen-before art work.
According to Agence France Presse (AFP), most of these artists are influenced by the works of Picasso, Damien Hirts and Chinese dissident Ai Weiwei, but their works also evoke the emotions and various impacts of the decades of war in Afghanistan.
From 106 applicants, 10 artists were chosen to compete in the final round of this year's prize, which is funded by the Turquoise Mountain Foundation, an Afghan arts organization. The winner will receive USD 1,500 and the runner up will receive USD 800.
The source adds that one of the artists, Arif Bahaduri (22), uses medical plasters to make three-dimensional images at his USD 100-a-month rented studio in south Kabul, and he is now preparing a 30-minute piece of performance art.
"I work with plasters to represent pain and unhealed wounds, and now I hope my performance piece will lead me in a new direction," AFP quotes Bahaduri.
Another young artist is casting her naked back for her prize entry. Orna, who prefers to go by one name, says her family does not know about her art and admits that her work might not be welcomed, but she says there is a strong and supportive community of fellow artists in Kabul.
"The cast is part of a body that I have made that has no arms and no legs," AFP quotes Orna, 22.
"I was born in exile in Iran and this is my reaction to coming to Afghanistan and seeing so many people missing one foot due to bombs and mines."
She adds her work is inspired by Franz Kafka, an existentialist author known for his works, such as "The Metamorphosis, The Trial and the Castle.
One of competition's more striking entries is a piece by Baqir Ahmadi that consists of a dried cow's head stuffed with clay and surrounded by piles of human hair, adds the source.
The artists are mentored by Francesca Recchia, a Kabul-based Italian academic who is working to take the exhibition to the international standard level.
---
---
Related Articles
Afghanistan's social media provider, Paywast, received the Special Mention Award at the mBillionth event in New Delhi, India. The trophy
Grapes yield in the Feroz Nakhchar district of northern Samangan province has boosted to 6,000 tons this year compared to
As the US war in Afghanistan is in its twilight, there are fears about disputes over water resources to become