5 must-watch movies on Afghanistan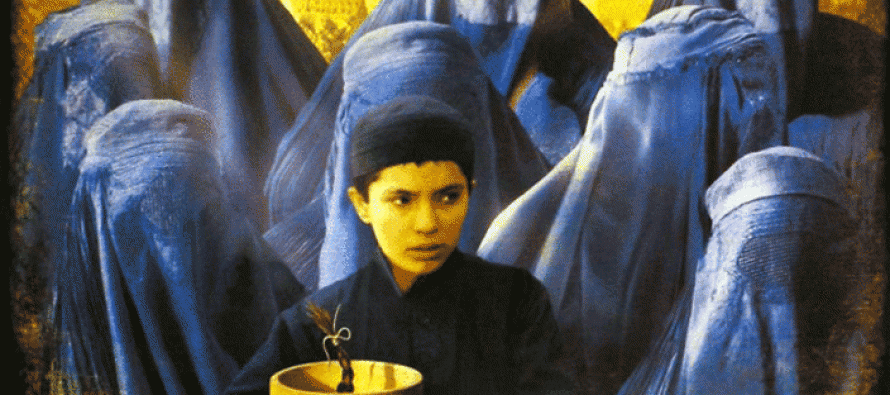 Osama (2003)
Director: Siddiq Barmak
Starring: Marina Golbahari, Zubaida Sahar, Mohammad Arif Herati,Mohammad Nadir Khwaja
During the repressive regime of the Taliban, women were barred from participating in the socio-economic affairs. This path breaking movie revolves around a girl, who loses all the male members of her family, and has to disguise herself as a boy, to make money and support her poor family. It was the first film to be shot entirely in Afghanistan since 1996, when Taliban announced ban on films.
At five in the afternoon (2003)
Director: Samira Makhmalbaf
Starring: Agheleh Rezaïe, Abdolgani Yousefrazi, Razi Mohebi
The first film to be shot in Kabul after the NATO invasion, it tells the story of Nogreh, a young and ambitious Afghan woman from a conservative family, who lives with her father and sister-in-law. She defies the norms and wants to be educated and become the first female President of Afghanistan. Premiered at 2003 Cannes Film Festival, the film earned rave reviews for breaking many stereotypes.
The Kite Runner (2007)
Director: Marc Forster
Starring: Khalid Abdalla, Zekeria Ebrahimi, Ahmad Khan Mahmidzada, Homayoun Ershadi
Adopted from a best-selling novel of the same name by Khaled Hosseini, this film tells the story of Amir, a boy from a posh locality of Kabul, who is torn apart by the guilt of betraying his friend Hassan, son of his family servant. The story traces the tumultuous events from the fall of monarchy to Soviet military intervention, the exodus of Afghan refugees to Pakistan, followed by the Taliban regime.
Buzkashi Boys (2012)
Director: Sam French
Starring: Fawad Mohammadi, Jawanmard Paiz, Wali Talash
A feature film that was nominated for Academy Awards in 2012 tells the story of the fascinating but dangerous game of Buzkashi in Afganisthan. Filmed entirely on location in Kabul by a group of Afghan and international filmmakers, the film revolves around two best friends – a street urchin and a blacksmith's son – who dream of becoming champion horsemen in the game of Buzkashi.
Lone Survivor (2013)
Director: Peter Berg
Starring: Mark Wahlberg, Taylor Kitsch, Emile Hirsch, Ben Foster, Eric Bana
Based on the 2007 book of the same name by Marcus Luttrell, it is the story of failed U.S. Navy SEAL counter-insurgent mission Operation Red Wings in the mountains of Kunar, who go there to neutralize Ahmad Shahd, a dangerous Al Qaeda leader. All of them except Luttrell are killed. Luttrell survives because of a generous Afghan family. The film received two Academy Award nominations.
 Source: http://afghanzariza.com/magazine/2014/12/11/the-five-movies-on-afghanistan-worth-your-time-2014
---
---
Related Articles
Two students of the Afghanistan National Institute of Music (ANIM) finished third in their age category at an international piano
Hype Energy Drinks held a star-studded US launch in Nashville, Tennessee on Tuesday, with their global ambassador, Kim Kardashian West
Afghan film Wajma, directed and produced by Barmak Akram, won the 2013 Sundance Award for screenwriting in the World Cinema,