Afganistan's National Institute of Music Receives Prestigious Polar Music Prize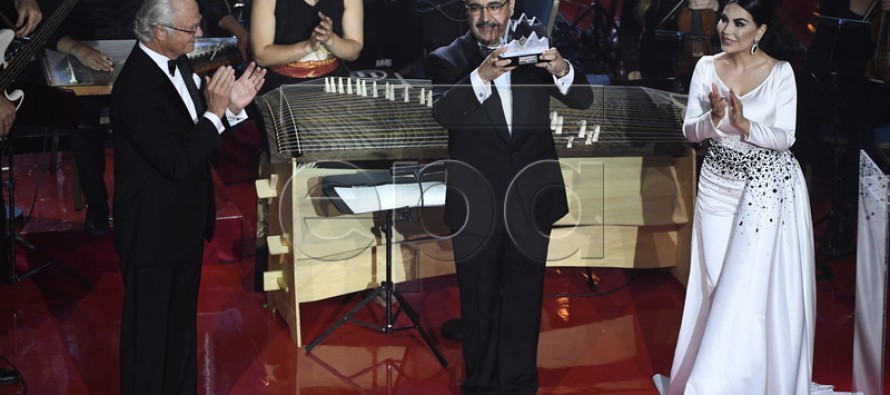 Dr. Ahmad Sarmast, founder of Afghanistan's National Institute of Music,  accepted prestigious Polar Music Prize from the hands of His Majesty King Carl XVI Gustaf of Sweden at real viagra online without prescription a ceremony held at the Grand Hotel in Stockholm on Thursday evening.
The award  was shared with Metallica, one of the most popular heavy metal bands. 
The winners of the award cialas were announced in February. The award panel said the Afghan ensemble "revives Afghan music and shows you can transform lives through music."
Aryana Sayed—Afghanistan's most loved female pop star, also known as the diva among her fans—performed at the ceremony. 
Dr. Sarmast is alumni of Monash University, Australia, and the first native of Afghanistan to obtain a PhD in Music.
Dr. Sarmast came canadian health care pharmacy order viagra to Australia as a refugee in 2001 after fleeing the wars in Afghanistan. Music runs in his viagra order no prescription family and has been an important part of his life. His father, Ustad Sarmast, was a composer, conductor, and also a renowned musician. 
Like his father, Dr. Sarmast believes in the power of music as a unifying force that rebuilds lives and brings social change.
It is this belief that encouraged him to return to Afghanistan to revive music education. His aim was to establish a school of music that provided children training in music along with quality secondary education.
Today, ANIM empowers Afghan children through education and music regardless of class, ethnicity, or gender. ANIM specifically provides opportunities for the over one million children currently orphaned or without a home in Kabul. Half of its students' families receive a stipend of around $30 each month so that the children can attend the school instead of working.
The Polar Prize is founded  music publisher and lyricist Stig "Stikkan" Anderson. 
Anderson petitioned the Nobel Prize committee in the late 1980s to add a music award. When his idea was rejected, Anderson created his own award, the Polar Music Prize.
---
---
Related Articles
Dr.Sayed Makhdom Raheen Minister of Information and Culture while talking at the conference of preservation of cultural heritage of Ainak
If rumors are to be believed, Bollywood's two biggest stars, SRK and Ajay, will soon be seen together, sharing screen
You will not believe what films were rejected by Salman Khan when they were offered to him. These films became