Afghanistan celebrates its 94th Independence Day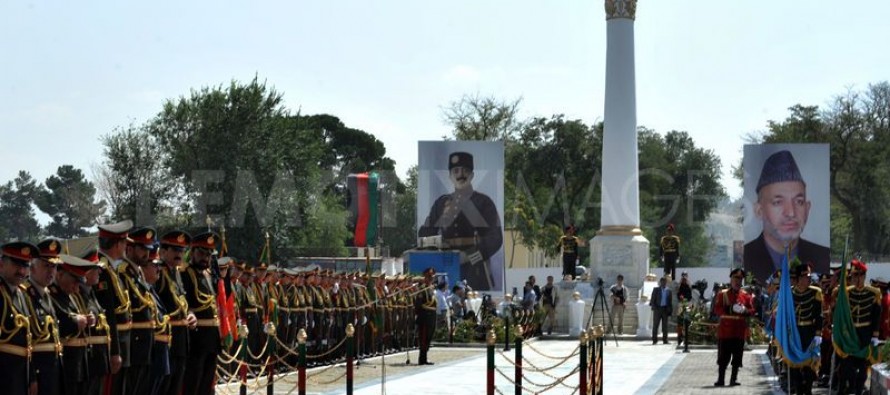 (By Aazem Arash, Tolo News) On Monday, August 19, Afghanistan celebrates the 94th anniversary of its Independence Day. On this national holiday, Afghans gather with family members, friends and neighbors to honor Shah Amanullah Khan's defeat of the British Empire in 1919 and celebrate the founding of their nation.
While government officials host a small ceremony at the Ministry of Defense (MoD), this year's Independence Day offers most Afghans the chance to enjoy celebrations with their loved ones and fellow countrymen. But it also provides a reason to reflect on the country's past. On the anniversary of Afghanistan's founding, the legacy of Amanullah Khan, and the vision he had for the country once free from the yoke of the British Empire, becomes the focal point of that reflection.
Princess India, daughter of Shah Amanullah Khan, in an interview with TOLOnews said that Amanullah Khan was always concerned with educating his countrymen so that they could be freed from the bounds of illiteracy just as they were from military imperialism.
"Shah Amanullah did everything he could in order to get Afghanistan on the track of development. One of them is helping the country gain independence from the UK. He also persuaded people to take up learning and renounce violence. Unfortunately, the later governments in Afghanistan failed to turn his dreams into a reality," Princess India told TOLOnews.
"An illiterate country can never be a free country," Amanullah Khan is remembered as saying.
Descendants of Amanullah Khan's officials also took the Independence Day anniversary as an opportunity to praise him and the efforts he made during his reign, which lasted from 1919 to 1929.
"Amanullah Khan fought for an independent country. He implemented the Constitution and Afghanistan was the only country in Asia that had a Constitution of its own," Zaid Sediq Charkhi, son of Amanullah Khan's Foreign Minister told TOLOnews.
Nevertheless, many of the reforms brought about by Amanullah Khan were quite controversial. Between the establishment of mixed gender schools, granting women equal constitutional rights and opening up trade with Europe, Amanullah Khan was often likened to his contemporary in Turkey, Mustafa Kemal "Ataturk." Many of his reforms upset an established social order of custom that eventually led to a reactionary uprising, forcing him to abdicate the thrown in 1929.
In today's Afghanistan, where the proponents of liberal reform often become targets of groups like the Taliban who claim to champion more conservative values, perhaps the story of Amanullah Khan is more relevant than ever. In the case of women's empowerment, reactionary violence against the movement's leaders, like the recent kidnapping of MP Fariba Ahmadi Kakar or the assassination attempt against Senator Rooh Gul, echoes the backlash Amanullah Khan encountered over 90 years ago.
However, regardless of the relevance of Amanullah Khan's story to the present, some would say today's Independence Day celebrations fall short of what they once were.
Rohullah Hasrat Barakzai, an Afghan historian, recalls that people once celebrated Independence Day for a week straight. The Jashen festival, a week-long event that commemorated the founding of the Republic of Afghanistan, included concerts, military parades and food "clubs" set up by government ministries. Today, celebrations are considerably smaller in scale.
The only official event sponsored by the government in Kabul today was the small ceremony attended by President Karzai and a number of other senior government officials at the MoD. With no speeches delivered, the ceremony was over in the blink of an eye as the President fiinished laying a reath of flowers on the Minaret of Independence.
Whether the downsizing of celebrations is because of security issues, or simply because Afghans don't feel the urge to commemorate Amanullah Khan's feat with the same pageantry they once did, it is hard to know. But was is certain is that today, an anniversary of independence just one year before foreign forces leave after over a decade of war, is a day to celebrate and reflect on Afghanistan – where it comes from and where it's going.
---
---
Related Articles
In 1892, Rabindranath Tagore, a Nobel prize winner in Literature wrote a short story in Bengali language titled "The Kabuliwala
A magpie is sitting on the wall, some message might come to us. Cover your bald head or else it
Officials of the Ministry of Information and Culture said construction work on new museums in six provinces of Afghanistan would