Afghan's 'Buzkashi boys' to walk down red carpet at Oscars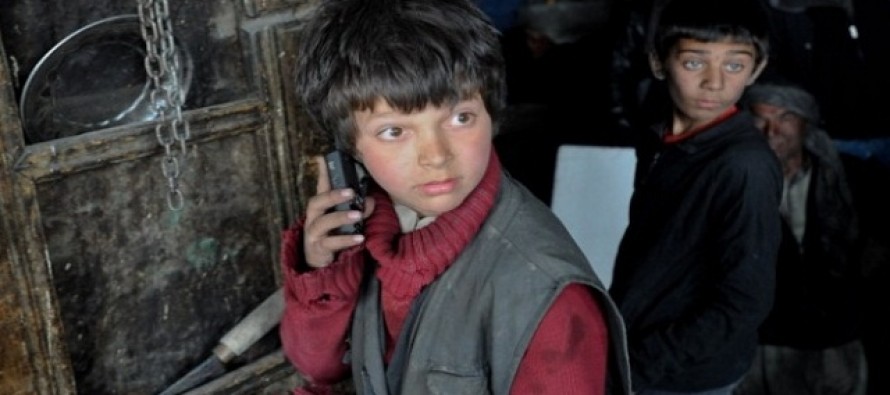 By the Associated Press- Fawad Mohammadi has spent half his life peddling maps and dictionaries to foreigners on a street of trinket shops in Kabul. Now the 14-year-old Afghan boy with bright green eyes is getting ready for a trip down the red carpet at the Oscars.
It will also be his first time out of the country and his first time on a plane. Mohammadi was plucked from the dingy streets of the Afghan capital to be one of the main stars of "Buzkashi Boys," a coming-of-age movie filmed entirely in a war zone and nominated in the Best Live Action Short Film category.
The movie is about two penniless young boys – a street urchin and a blacksmith's son, who are best friends and dream of becoming professional players of buzkashi, a particularly rough and dangerous game that somewhat resembles polo: Horseback riders wrangle to get a headless goat carcass into a circular goal at one end of the field.
Sam French, a Philadelphia native who has lived in Afghanistan for about five years, said his 28-minute movie was initially conceived as a way of training local film industry workers. The film is also part of the American director's effort to help revive a film industry devastated by decades of civil war and by the Taliban, an Islamic fundamentalist movement that banned entertainment and burned theaters during its five years in power.
"We never dreamed of having the film come this far and get an Oscar nomination," French, 36, said in a telephone interview from Los Angeles, where he is preparing for the Feb. 24 Academy Awards, while raising money to fly the two young co-stars in for the ceremony.
The two boys playing the main characters — Mohammadi and Jawanmard Paiz — can barely contain their excitement about going to the Oscars.
"It will be a great honor for me and for Afghanistan to meet the world's most famous actors," said Mohammadi, whose real-life dream is to become a pilot. He's also hoping to go see the cockpit during the flight.
The farthest Mohammadi has ever travelled was to the northern Afghan city of Mazar-i-Sharif when he was younger.
Mohammadi's father died a few years ago, leaving him with his mother, five brothers and a sister. He started selling chewing gum at the age of seven and soon expanded his trade to maps and dictionaries.
He learned to speak English hustling foreigners on Chicken Street, the main tourist area in Kabul with shops selling multicolor rugs, lapis bowls and other crafts and souvenirs, and gained a reputation for being polite, helpful and trustworthy. He was even able to enroll in a private school, thanks to the generosity of some other foreigners unrelated to the film project.
In the movie Mohammadi plays the blacksmith's son, Rafi, whose father wants him to follow in his footsteps. "His life was so much harder than mine," Mohammadi said.
"The blacksmith made him go out on the streets. I came myself here (to Chicken Street). My family didn't make me come. I wanted to make money to feed myself and to feed my family. He didn't have a home. They lived in the blacksmith shop."
Ironically it's Paiz, the youngest son of a well-known Afghan actor, who plays the homeless boy Ahmad. Paiz, also 14, already an experienced actor, appeared in films since the age of five and has attended the Cannes Film Festival.
Both young Afghan boys had a lot to learn from each other and became friends.
Paiz gave Mohammadi tips for acting and handling himself in live interviews, while the latter taught the former about life outside his sheltered surroundings.
"When I saw Fawad was such a good actor even though he was a street boy and he was so brave in acting, I was very surprised and I said to myself, 'Everybody can achieve what they desire to do,'" Paiz said during an interview this week, shivering in the snow-covered courtyard of the Afghan Film Institute.
French, who co-wrote the script and produced "Buzkashi Boys" with Martin Roe of the Los Angeles-based production company Dirty Robber, launched a fundraising drive that's raised almost $10,000 to help bring the boys to Los Angeles for the ceremony. Any extra money will be placed in a fund to provide for Mohammadi's education and help his family.
The boys will travel with an escort and will stay with the extended Afghan family of one of the film's producers, French said.
Once upon a time in Afghanistan
In the early 20th century, Afghanistan had a burgeoning film industry starting, but it suffered from fighting during the civil war and the Taliban campaign to stamp out entertainment.
Actors and film industry workers like Paiz's father and Wali Talash, the actor who plays the blacksmith fled the country. They returned only in 2001 after the U.S.-led assault ousted the Islamic movement and its Al Qaeda allies.
French said he and others involved in the "Buzkashi Boys" took pains to involve the community and made sure to avoid any scenes that could be offensive.
"We're not filmmakers who just do a film and leave. We remain there and present," he said. "We had lots and lots of tea with lots and lots of people.''
Talash, 56, said he hopes the "Buzkashi Boys" will show the world the rich culture of Afghanistan, which too few in the world know beyond reports of roadside bombs and suicide attacks.
"I hope if this movie wins that it will be an earthquake that will shake the industry and help Afghan filmmakers get back on their feet," he said.
Meanwhile, Mohammadi says he knows the money and fame he earned from the movie can carry him only so far. He will continue to sell maps, though not so often as before, because he has school to attend.
---
---
Related Articles
CNN- Editor's note: Aman Mojadidi is an American artist of Afghan descent who has staged public art projects in Afghanistan for the
By Ahmadshah Ghanizada: The first Islamic museum in North America was formally opened in Canada on Friday by Prime Minister
Bollywood superstar Shah Rukh Khan has been banned from entering Mumbai's Wankhede Stadium for five years after a row with