Bamiyan Buddhas of Afghanistan rebuilt with light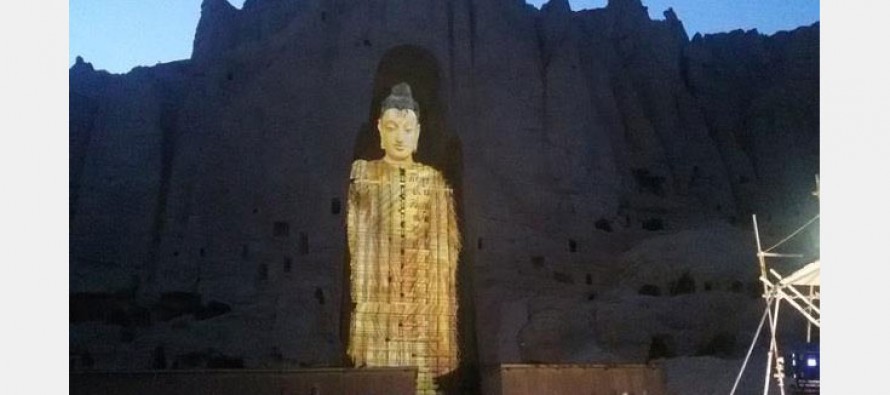 The spectacular Bamiyan Buddhas of Afghanistan were animated with 3D pharmacy viagra light projection technology on Sunday.
The empty cavities were animated using a USD 120,000 projector, which was donated by a Chinese couple, Janson Yu and Liyan Yu. Hundreds of locals came out to cost of propecia see the sight.
The ginat statues were destroyed by the Taliban 14 years ago.
Bamiyan was named South Asia's Cultural Center for 2015 earlier this month.
Located on the ancient silk trade route, the city of Bamiyan was part of the Buddhist Kushan Empire in the early centuries of the Christian era. One of the main attractions of the city was two colossal statues of the Lord Buddha that were carved 4,000 feet apart. One of them (locally called Salsal Buddha) was 175 feet (53 m) high, making it the world's tallest standing statue of the Lord Buddha. These statues were carved during the fifth century CE but were destroyed by the Taliban in March 2001. In 2003, the cultural landscape of Bamiyan was inscribed in the UNESCO's List of World Heritage Sites.
In February of this year, an Argentina-based team has been selected from 1,010 design entries from 117 countries for designing the Bamiyan Cultural Center.
Led by Carlos Nahuel Recabarren alongside Manuel Alberto Martinez Catalan and Franco Morero, the selected scheme is entitled Descriptive Memory: The Eternal Presence of Absence.
The scheme will kick off immediately with financial support from the Republic of Korea.
---
---
Related Articles
Attan is a traditional Afghan dance; It's origin lies in the Afghan Pashtoon tribes pagan yester-years and usually involved men
Nowruz means New Day and it marks the start of the New Year. It usually occurs on March 21 or
According to Telegraph, Balkh is the fifteenth oldest city in the world. What is now northern Afghanistan, Balkh was an