"Kabul to Kolkata" Of Belonging, Memories and Identity Photography Exhibition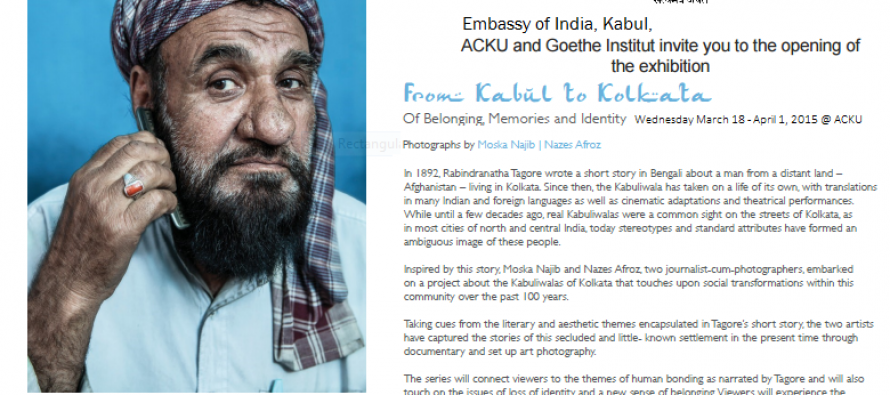 In 1892, Rabindranath Tagore, a Nobel prize winner in Literature wrote a short story in Bengali language titled "The Kabuliwala " about a man from the distant land of Afghanistan-living in Kolkata. Since then, "The Kabuliwala" has taken on a life of its own, with translation in many Indian and foreign languages as well as cinematic adaptations and theatrical performances. While until s few decades ago, real Kabuliwalas were a common sight on the street of Kolkata, as in most cities of north and central India. Today, however stereotypes and standard attributes have formed an ambiguous image of these people. Inspired by this story, Moska Najib, an Afghan woman journalist-cum-photographer along with Nazes Afroz, an Indian Journalist-cum-photographer, embarked on a project to document the lives of the Kabuliwalas of Kolkata.
The project touches upon social transformation within this community over the past 100 years.
Taking cues from the literary and aesthetic themes encapsulated in Tagore's short story, the two artists have captured the stories of this secluded and little -know settlement in the present time through documentary and photography. The series will connect viewers to the themes of human bonding as narrated by Tagore and will also touch on the issues of loss of identity and a new sense of belonging. Viewers will experience the tension between preserving an identity and rebuilding a home in a new space.
The first series of photography exhibition "Kabul to Kolkata" Of Belonging, Memories and Identity funded by India-Afghanistan Foundation and Goethe Institute is to be staged in Kabul, Delhi, Dhaka and Kolkata. The Kabul Photography Exhibition is to be held at Afghanistan Centre for Kabul University (AKCU) from March 18th -April 1st 2015.
---
---
Related Articles
Six Afghan female cyclists are invited to participate in an international tournament in France. The tournament is scheduled to be
By the Associated Press- Fawad Mohammadi has spent half his life peddling maps and dictionaries to foreigners on a street
The Afghan government has promised to preserve a historic Buddhist site at the Ainak copper project site. The grounds of