'Sesame Street' unveils Afghan Muppet called Zari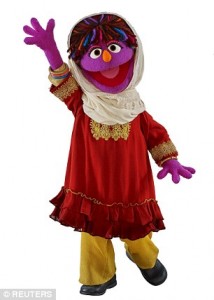 Baghch-e-Simsim, which is the Afghan version of the Sesame Street, unveiled a fresh face on Thursday: a Hijab-clad muppet named Zari.
Zari plays the role of a feminist in the show where she will focus on "girls' empowerment, national identity, physical health and social and emotional wellbeing," said a Sesame Street press release.
"The exciting part about Zari is that she is modeling for young girls that it is wonderful to go to school and that it's ok to dream about having a career," said Sherrie Westin, Sesame Workshop's executive vice president.
Westin said TV shows like Sesame Street have shown to have a positive impact on people's minds and attitudes.
'Part of the power of the broadcast and Zari's potential as a role model is to reach children and parents where they may not have access to other educational content.'
Baghch-e-Simsim (meaning "Sesame Garden") is a Pashto and Dari children's television series based on the American Sesame Street, which was officially launched in Afghanistan on December 1, 2011.
The project is funded by the Embassy of the United States in Kabul and is produced in consultation with Afghanistan's Ministry of Education.
---
---
Related Articles
Kandahar orchard owners are eyeing foreign markets to sell their berries following a cost of propecia high yield. Adequate rainfall and absence of
Aamir Khan is accompanying her mother, Zeenat Hussain, on a pilgrimage to Mecca. The dutiful son wants to keep his
Afghanistan and Tajikistan sign Memorandum of Understandings (MoU) in the areas of security, trade, transit, transportation, energy, culture and politics.