Story of a Rubab maker from Afghanistan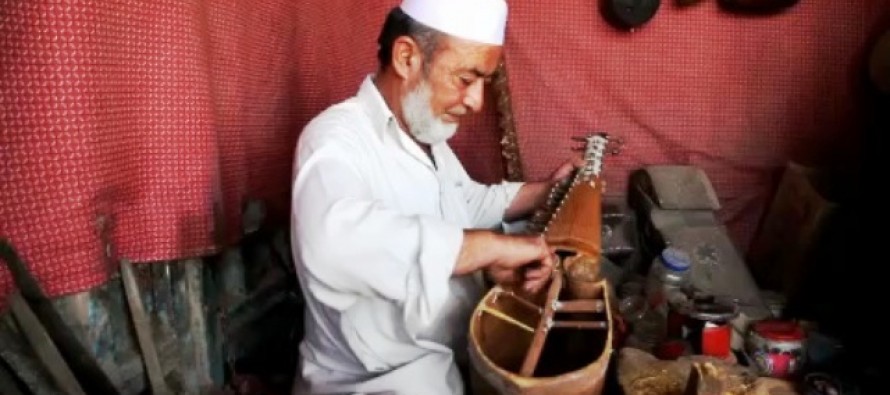 Two brothers, getting on in years, make rubabs, a traditional Afghan stringed instrument. They learned the craft from their father and are passing it on to their sons. It is a labour-intensive work. It takes a month to carve each from a single section of tree and then add the bridge and sometimes mother of pearl inlays.
Afghanistan has a rich musical heritage. Its traditional music was once renowned across the region.
But the arrival of the Soviets and the civil war broke Afghanistan's music industry apart. Then the Taliban banned music completely, which forced many of Afghanistan's talented musicians to flee the country.
In 2001 the overthrow of the Taliban regime enabled many Afghan refugees to return to their country and begin a new life. Among them were Esa and Rafiq, famous rubab makers in old city Kabul, who had been living in Pakistan during the Taliban times. At their home in Kabul they make and repair rubabs and other traditional instruments. They've done this their entire lives, as did their father and grand-father.
"No one in the world could make rubabs like my father could," said Rubab maker Mohammad Esa.
Esa said that during the Taliban years he and his brother lived with their families in Pakistan but would routinely cross the border where the wood was better. They'd rough out the bodies of the instruments and then smuggle them back.
He said "During Taliban times, I came to Afghanistan three or four days a month. At that time my father was alive. We helped him get the wood to make the rubabs with, it was not available in Pakistan. We crafted the rubab like this and then we transported it to Pakistan."
Rafiq, Esa's brother, told us that despite the difficulty of making a rubab, which takes about 15-20 days — from big log to work of art — it is a good occupation.
He said "We like what we do because it's in our culture."
His youngest son is already learning. "He wants to work with us. He helps me with the work. He'd rather do this than his studies but I've told him he must do both," Omid the rubab maker's son said.
Rafiq also said that they won't stop the family tradition. "As long as we have customers here, we will continue our work. If we don't have any business, we will go back to Pakistan or Iran and work there," he said.
They make between 20-50,000 Afghani per rubab, or between 400 and 1000 US Dollars, with the higher priced ones being decorated with inlays of mother of pearl.
According to Esa "Our work is very difficult, but those who play the instrument become spiritually happy. The work isn't easy. At night we feel pain in our hands."
Rubab player Jan Lala has been playing for 26 years and does wedding parties. A great feature on newer models, he says, is the jack to plug it into an amplifier for big audiences. But he also says it's ok to play the tambur and rubab unplugged as well.
"When I am upset, I play the rubab. In Pakistan we were poor and hungry. One night I played Indian songs. I started playing from the evening until 2 am. In the morning our neighbours came and asked me what I was playing. I told them it was the rubab and they asked me to play for them the next night, so I did. They paid me 250 Pakistani rupees [US$3]. That was a lot of money for us," Jan Lala said.
Despite the modernisation of music, the traditional instruments and songs from Afghanistan and the region are still listened to by Kabul's young, and are even incorporated into current popular songs, obviously satisfying the taste of contemporary Afghan listeners in ways that that purely western music cannot.
NATO Channel story by Jeff Holden, with producer Syed Mansoor Alam and photographer Samim Zalmi in Afghanistan.
---
---
Related Articles
The spectacular Bamiyan Buddhas of Afghanistan were animated with 3D light projection technology on Sunday. The empty cavities were animated
In the long history of humanity, domination has been a major concern because there always had to be some kind
by Pajhwok Report Residents of southern Helmand province contributed 2.7 million afghanis to the repair of historic Dar-ul-Aman and Taj