10 most valuable life lessons from Dr. Shahrukh Khan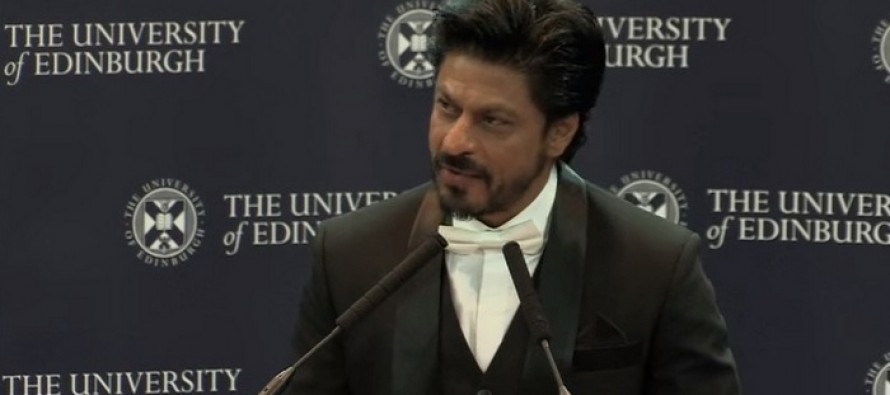 Shahrukh Khan received an honorary doctorate from the University of Edinburgh in the United Kingdom, just days before his 50th birthday.
He delivered a speech on his journey from nothing to stardom and the valuable lessons he learned.
Some of the lessons he shared are:
Madness (of the particularly nice/romantic kind) is an absolute prerequisite to a happy and successful life. Don't ever treat your little insanities as if they are aberrations that ought to be hidden from the rest of the world. Acknowledge them and use them to define your own way of living the only life you have. There's no such thing as "normal". That's just another word for lifeless.
No matter how bad it gets, life IS the miracle you are searching for. There is no other one around the corner. Develop the faith in it to let it take its own course, make all the effort you can to abide by its beauty and it will not let you down. Use every resource you have been given, your mental faculties, the ability of your heart to love and feel for those around you, your health and good fortune: all of the thousands of gifts life has given you to their maximum potential.
Don't let your fears become boxes that enclose you. Open them out, feel them and turn them into the greatest courage you are capable of.
It's ok to be confused. Confusion is the route to all the clarity in the world. Don't worry about it too much and don't ever take yourself seriously enough to be so clear about your own ideas that you stop respecting other people's.
If you aren't charged up about doing something, if you don't have what in Hindi we call the "Josh", the fire in your belly for it, then don't do it. It's a waste of your time and more importantly, of those who pin their hopes on your endeavors too.
Sadness and happiness have the same quality of transience. Life is a balanced exchange of one with the other. Take them with the ephemeral spirit of their impermanence and manage them with a healthy dose of good humor.
When life hits you with all the force of its resplendent rage, the Rolls isn't going to give you comfort. A friend's grace will, and if you can't find resolution as easily as you would like to, don't panic. Everything evolves as you go along…
Live from the heart. Dil Se. Love. Love people, love the world around you, love animals and birds, and big cities and mountains, love dreams, love life, love your work, your friends and your enemies even if you feel least like it. Most importantly, my friends; love yourselves.
All the names you give yourself, or those that others call you, are just labels. You are not defined by them no matter how flattering or uncomplimentary they are. What defines you is your heart.
Give of yourself to others. And while you're at it, make sure you realize that you aren't doing anyone any favours by being kind. It's all just to make you feel that sneaky little twinge that comes from being utterly pleased with yourself. After all, the one that gets the most benefit out of any act of kindness or charity that you do will always be you.
 To watch the full video, please click here.
---
---
Related Articles
New Delhi, May 26 (IANS) Hollywood may have wiped out the "whole world's indigenous film industry" but Bollywood has held
They were real lovers once upon a time, they are back together once again, but this time on reel. Ranbir
You will not believe what these Bollywood actors have done for their roles in their movies.