Rani Chopra? Is Rani Mukherji married to Aditya Chopra…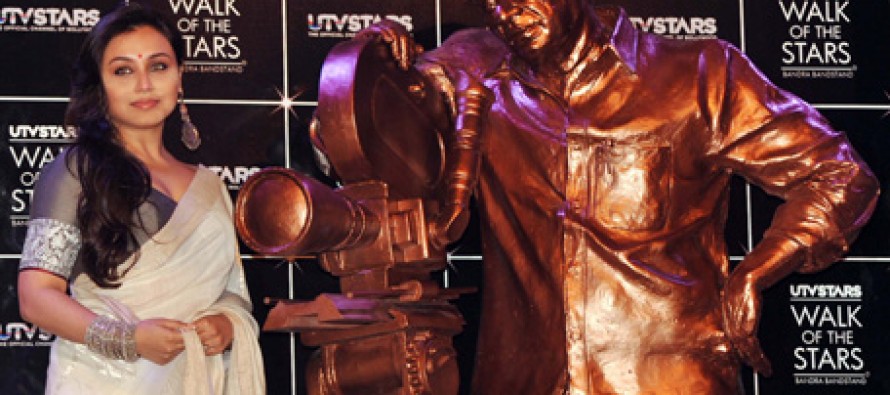 Emirates 24/7-Bollywood legend and late filmmaker Yash Chopra's statue was unveiled at the UTV STARS Walk and the Chopra family along with Rani Mukherjee were present during the event.
Rani Mukherji got emotional when Yash Chopra's wife Pamela Chopra and son Uday unveil the statue.
"I would like to thank UTV for this. It's a great moment for all the people who loved Yash uncle and the people who are associated with the family. We will all miss him," a visibly teary-eyed Rani told reporters.
But the media and the audience were taken aback when veteran actor Shatrughan Sinha addressed Rani Mukherjee as Rani Chopra.
Did Sinha spill the beans even as Rani Mukherjee and producer-director Aditya Chopra have kept the rumour mills guessing about their relationship?
While calling out the names of the family members of late filmmaker Yash Chopra, Sinha said, "Pamela Chopra, Uday, Rani and other family members… just now my wife said I missed out on Aditya Chopra. When call out Rani Chopra's name it is obvious I mean Aditya. (Jab maine Rani Chopra ka naam liya hai toh zaahir si baat hai ke Aditya ka bhi naam leta)."
It is likely to spark fresh rumours about the actress's current relationship status with the Chopra scion.
Rani was silent – clearly indicated by her immediate gesture of covering her mouth in apparent shock.
Since years, rumours have been rife that the 34-year-old shares a close bond with Aditya Chopra, and that she was the prime reason behind his divorce in 2009.
As per other rumours, the duo has already tied the knot in 2012 in a private ceremony. None of them have either officially confirmed their relationship, or their wedding.
A host of celebrities including Poonam Dhillon, Prem Chopra, Kabir Khan, Parineeti Chopra and Vaibhavi Merchant were also present at the event.
Last year, when the noted filmmaker was admitted in Lilavati Hospital, Rani was present with the Chopra family. Later, at the prayer meet for Yash Chopra, Rani had stood by the family members.
---
---
Related Articles
Sonam Kapoor's, Neerja Bhanot, is set to become the first biggest hit of the year. The movie is based on
Records are meant to be broken, and director Rohit Shetty's 'Chennai Express' is proving exactly the same. The Shah Rukh
Fashionista and actress Sonam Kapoor says initiatives like Design One, an exhibition organised to raise funds for an NGO that