Shahid Kapoor ties knots with 21yr old Mira Rajput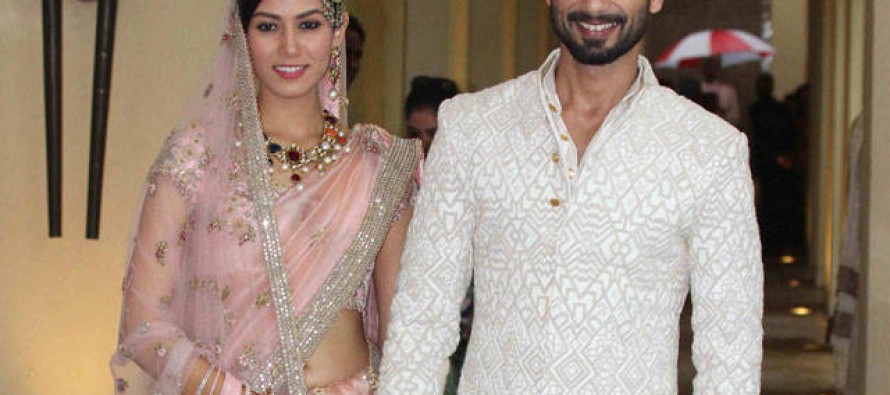 The chocolate boy of Bollywood Shahid Kapoor, 34, married fiancé Mira Rajput 21, in an intimate ceremony in Delhi on Tuesday.
The wedding was attended only by close friends and family members.
Mira is a student and her parents have been worried about her engagement with Shahid going public. Mira's family has no Bollywood connect and that's why they want to avoid media attention.
Mrs. Kapoor is a third-year English (Honors) student at LSR and did her schooling from Vasant Valley School. The two met through the religious group, Radha Soami Satsang Beas, which Shahid and his father ardently follow.
Shahid Kapoor had said that he wanted to marry someone who doesn't belong to the film industry as it will help him in seeing life from a different perspective.
Haider actor had dated Kareena Kapoor for almost four years, and the two brok up after their last film, Jab We Met, which was a major hit of Bollywood.
Kareena Kapoor's message on Shahid Kapoor's marriage was: "I wish Shahid well, and I am sure Saif wishes him the same. It (marriage) is a good journey, and a great feeling. It is a moment of happiness for him."
" Shahid's wedding is not a movie. Don't turn it into a soap opera. We should just stick to the fact that I wish him nothing but happiness and joy in his married life," added Mrs. Kapoor Khan.
---
---
Related Articles
While Bollywood celebrities are looking forward to settle down, there are a few youngsters who are still single and are
The Vivek Oberior, Aftab Shivadasani and Ritish Deishmukh, Grand Masti, crossed the 100 crores mark worldwide in its 3rd week.
Hype Energy Drinks held a star-studded US launch in Nashville, Tennessee on Tuesday, with their global ambassador, Kim Kardashian West