Sonam Kapoor's Neerja Bhanot becoming a massive hit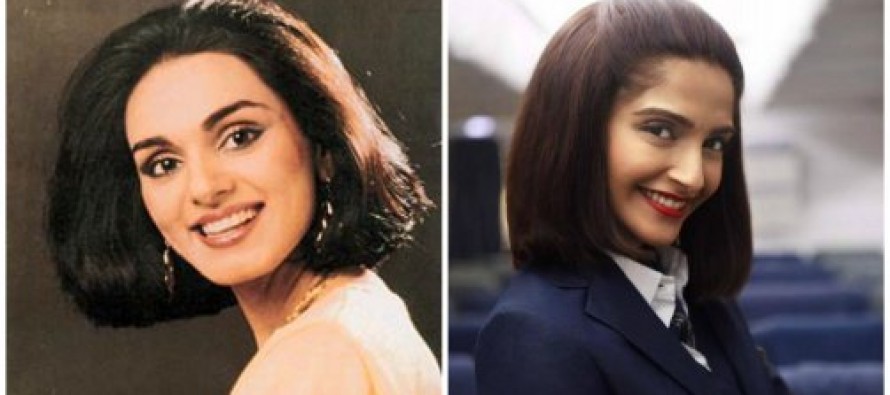 Sonam Kapoor's, Neerja Bhanot, is set to become the first biggest hit of the year.
The movie is based on the life of a model-turned-air hostess Neerja Bhanot who fights four Palestinian hijackers to save the lives of 359 passengers on board.
Neerja was serving as the Chief Purser on the Pan Am Flight 73 on September 5, 1986 when the plane was hijacked by terrorists in Karachi, Pakistan.
Apart from its impressive run at the box office, Sonam is also being praised for her acting in the film.
This is what Neerja Bhanot's classmates had to say on Sonam's performance: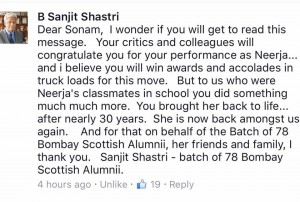 The Bollywood industry also goes ga-ga over her performance.
Here is what the celebrities tweeted:
Karan Johar: Sonam kapoor records her best yet with a moving portrayal of Neerja, her understated nuanced work lingers long after.
Subhash Ghai: Watched Neerja. Super film, super emotions, super Sonam, super Shabana. Congrats director Ram, writers… producers
Ayushmann Khurrana: Knowing the Bhanots personally makes 'Neerja' even more touching. Sonam Kapoor makes a dash to the awards. Salute to Madhvani and Atul Kasbekar (producer of the film).
Twinkle Khanna: A film that applauds an incredible young woman Neerja. Shabana Azmi and Sonam Kapoor will make you cry in this tale of courage and conviction.
Amit Sadh: Neerja a mind blowing film. I had tears! Sonam Kapoor makes Neerja Bhannot come alive onscreen. An absolute must watch!
Shilpa Shetty Kundra: Just watched Neerja. Riveting performances by Sonam Kapoor, Shabana Azmi and cast, Atul Kasbekar and Ram Madhvani take a bow. Must Watch.
Divya Dutta: Sonam Kapoor all the best lovely girl for Neerja. Looking forward to watching it!
---
---
Related Articles
 After a relatively quiet 2010 and 2011, Aamir Khan finds himself at the top of the table with Talaash. This
A member of Indonesia's highest Islamic authority has said Muslims should stay away from an upcoming concert by American pop
Veteran Hindi filmmaker Yash Chopra, with a career spanning over five decades, passed away at Lilavati hospital in Mumbai on