Story of India's "Mountain Man" becomes a Bollywood movie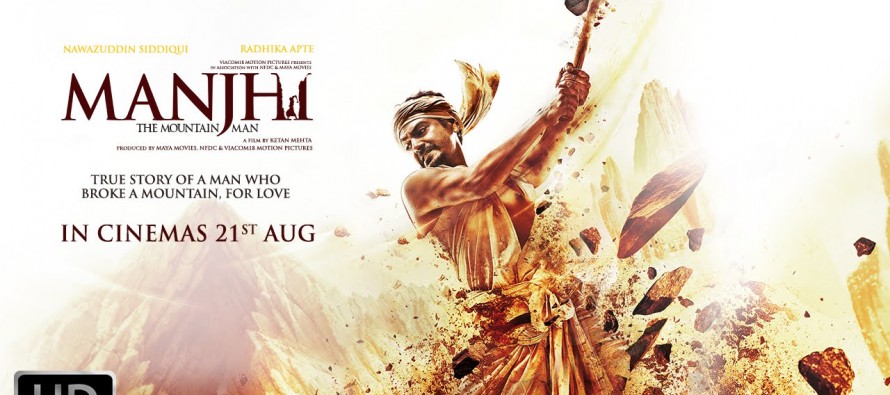 Dashrath Manjhi was an impoverished laborer from a small village Gehlaur near Bihar, India who spent 22 years chiseling a massive gap in a canadian online pharmacy mountain out of love for his dead wife.
His wife passed away because she could not get to nearest hospital 34 miles away—a journey that involved going round a mountain.
Manjhi, known as the "Mountain Man", devoted his life to carve 100mn path with hammer and chisel in that mountain so that other villagers did not suffer the same fate. He reduced the distance to 15km by cutting a direct path through rocks.
Manjhi died on 17 August 2007 at the age of 73, while suffering from gall bladder cancer in All India Institute of cialis cost Medical Sciences (AIIMS), New Delhi. He was given a state funeral by diet with levitra the Government of Bihar. The film's postscript states that 52 years after he started breaking the mountain, 30 years after he finished and 4 years after his death the government finally made a metalled road to Gehlaur in 2011.
Nawazuddin Siddiqui plays the role of Manjhi in his latest movie of the cialis vs viagra online same name.
'The most difficult aspect was to capture the madness. His work is extraordinary. He should be an inspiration and an icon for the youth,' Siddiqui told AFP.
The film is directed by Ketan Mehta who is a national award winner.
Mehta said his response was one of disbelief when he first heard the story and he just knew he had to make a movie about healthcare of canada pharmacy it.
'People called him mad but how did he achieve it singlehandedly?
'I went there and saw the mountain and the path he had carved. It was inspiring,' Mehta said.
---
---
Related Articles
Amid cheerful applause and motivational clapping, the musicians and singers from Afghanistan and some regional countries mesmerized a considerably big
At the International Indian Film Academy ( IIFA) awards in Singapore on Saturday, the father-son duo, Rishi Kapoor and Ranbir
The duo who share a symbiotic relationship when it comes to name, fame and reckoning in the industry is back.