Afghan Cycles London to Kabul to Show Nation's Prowess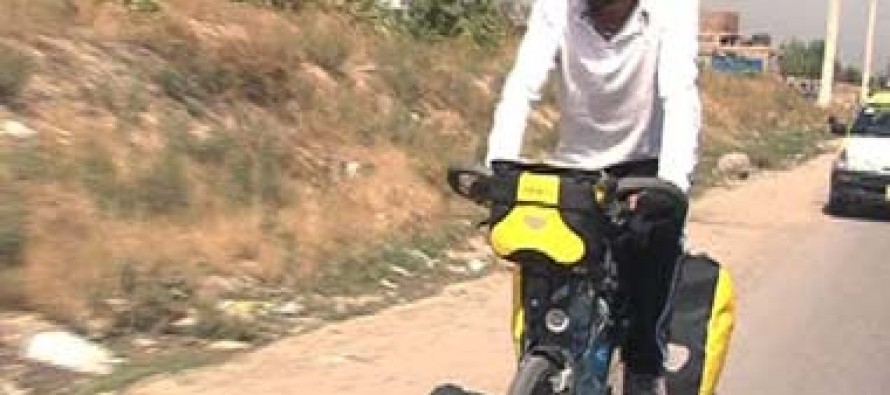 (Tolo News) A 29-year-old Afghan man living in Britain for the past 12 years cycled from London to Kabul, arriving in the Afghan capital Thursday morning after the three-month trek.
Mohammad Walid Nawrozi left London in June and crossed Europe with the goal of raising awareness for Afghanistan, particularly in its sporting capability.
"I left London three months ago and after crossing 17 countries I am now in Kabul," Walid told TOLOnews Thursday, after he arrived.
"The aim of this trip was to show the world that Afghans are not only terrorists or drug traffickers but they are also sportsmen who can do great things," he added.
The journey took Walid through France, Belgium, Netherlands, Germany, Czech Republic, Austria, Slovakia, Hungary, Serbia, Romania, Bulgaria, Turkey, Georgia, Azerbaijan, Kazakhstan and Uzbekistan.
Walid's father, who is still living in Kabul, said he is proud of his son and that he only wanted Afghanistan to have a better image in the world.
"My only wish is that Afghanistan has a good image in the world and I am proud that my son has achieved this honor. It's a huge moment for Afghanistan," Mahmood Nawrozi told TOLOnews.
Walid, who has British citizenship, left Afghanistan around 12 years ago to escape the Taliban after suffering beatings twice at the hands of the regime. A young student at medical school at the time, Walid said he fled to Pakistan without his family, and then went to the UK where he has been living ever since.
Walid added that if he is supported by the Afghan government and the business sponsors, he will continue to travel throughout the globe with a bicycle to raise awareness of Afghanistan.
This article is published on Wadsam, as it goes along with the message that Wadsam wants to pass across- Afghanistan is not all about war! Our people, just like many other people around the world, love freedom, love to go beyond the horizon, love to touch the skies, love to be happy, and love to live their life!
---
---
Related Articles
The health of people is intricately linked with the health of the global economy.  High mortality and morbidity rates in
By Daniel Burrus -I've always said that innovation is a key driver of business success. We saw this in action
BUSINESS leaders in India frequently suffer China envy. If only India's political system was like China's, they reason, the government