Elinor Ostrom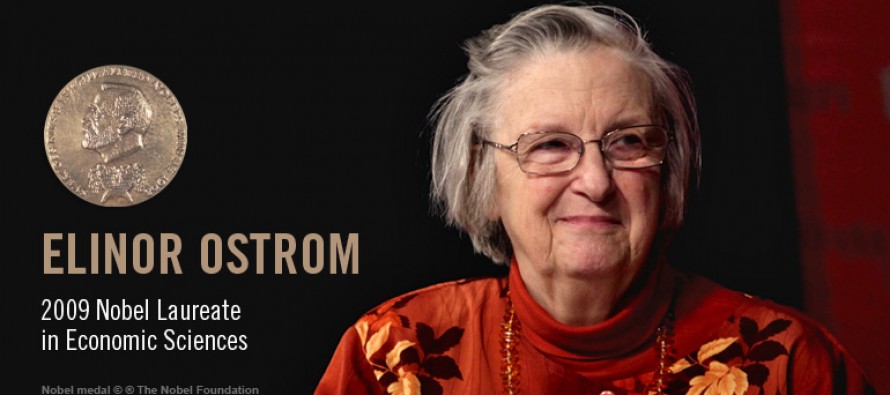 Elinor Ostrom (August 7, 1933 – June 12, 2012) was an American political economist whose work was associated with the New Institutional Economics and the resurgence of political economy. In 2009, she shared the Nobel Memorial Prize in Economic Sciences with Oliver E. Williamson for "her analysis of economic governance, especially the commons". To date, she remains the only woman to win The Prize in Economics.
Ostrom lived in Bloomington, Indiana and served on the faculty of both Indiana University and Arizona State University. She held the rank of Distinguished Professor at Indiana University and was the Arthur F. Bentley Professor of Political Science and Co-Director of the Workshop in Political Theory and Policy Analysis at Indiana University in Bloomington, as well as Research Professor and the Founding Director of the Center for the Study of Institutional Diversity at Arizona State University in Tempe. She was a lead researcher for the Sustainable Agriculture and Natural Resource Management Collaborative Research Support Program (SANREM CRSP), managed by Virginia Tech and funded by USAID. Beginning in 2008, she and her husband, Vincent Ostrom, advised the journal Transnational Corporations Review.
Challenged the Conventional Wisdom
As a political scientist Elinor Ostrom's research methods differed from how most economists work. Usually they start with a hypothesis, an assumption of reality, which is then put to the test. Elinor Ostrom started with an actual reality instead. She gathered information through field studies and then analyzed this material. In her book 'Governing the Commons' from 1990, she demonstrated how common property can be successfully managed by user associations and that economic analysis can shed light on most forms of social organization. Her research had great impact amongst political scientists and economists.
---
---
Related Articles
Dr. Manmohan Singh is the 17th and current Prime Minister of India. Singh is a member of the Indian National
Influential talk show host, author, philanthropist, actress and media personality. Oprah Winfrey has played a key role in modern American
So influential was John Maynard Keynes in the middle third of the twentieth century that an entire school of modern