How to Attack the Gender Wage Gap? Speak Up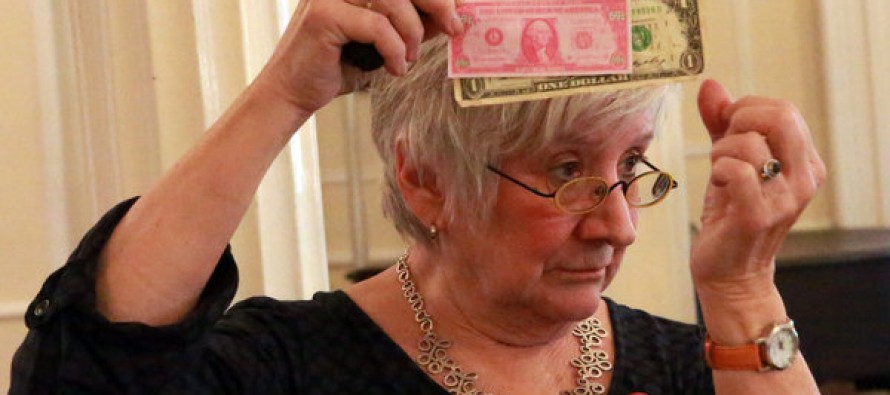 By JESSICA BENNETT- The New York Times
"How many of you know about the wage gap?" she asks a roomful of undergraduates, almost all of them women, at the College of Mount St. Vincent in the Bronx.
A few hands go up.
"Now, how many of you worry about being able to afford New York City when you graduate?"
The room laughs. That's a given.
Ms. Houle is the national director of a group called the WAGE Project, which aims to close the gender pay gap. She explains that her dollar bills represent the amounts that women will make relative to men, on average, once they enter the work force.
Line them up next to a real dollar, and the difference is stark: 77 cents for white women; 69 cents for black women. The final dollar — so small that it can fit in a coin purse, represents 57 cents, for Latina women. On a campus that is two-thirds women, many have heard these numbers before. Yet holding them up next to one another is sobering.
"I'm posting this to Facebook," one woman says.
One of three male students in the room is heading to the photocopier to make copies for his mother.
Another woman in the group sees a triple threat. "This is crazy," Dominique Remy, a senior studying communications, says, holding the pink cutouts in her hand. "What if I'm all of them? My mother is Latina. My father is Haitian. I'm a woman."
I've come to this workshop amazed that it exists — and wishing that there had been a version of it when I was in school.
I grew up in the Girl Power moment of the 1980s, outpacing my male peers in school and taking on extracurricular activities by the dozen. I soared through high school and was accepted to the college of my choice. And yet, when I landed in the workplace, it seemed that I'd had a particularly rosy view.
When I was hired as a reporter at Newsweek, I took the first salary number that was offered; I felt lucky to be getting a job at all.
But a few years in, by virtue of much office whispering and a few pointed questions, I realized that the men around me were making more than I was, and more than many of my female colleagues. Despite a landmark sex discrimination lawsuit filed against the magazine in 1970, which paved the way for women there and at other publications to become writers, we still had a long way to go, it turned out.
When I tried to figure out why my salary was comparatively lower, it occurred to me: couldn't I have simply asked for more? The problem was that I was terrified at the prospect. When I finally mustered up the nerve, I made my pitch clumsily, my voice shaking and my face beet red. I brought along a printed list of my accomplishments, yet I couldn't help but feel boastful saying them out loud. While waiting to hear whether I would get the raise (I did), I agonized over whether I should have asked at all.
This fear of asking is a problem for many women: we are great advocates for others, but paralyzed when it comes to doing it for ourselves.
BACK at the Bronx workshop, Ms. Houle flips on a projector and introduces Tina and Ted, two fictional graduates whose profiles match what's typical of the latest data. Tina and Ted graduated from the same university, with the same degree. They work the same number of hours, in the same type of job. And yet, as they start their first jobs, Ted is making $4,000 more than Tina. In the second year, the difference has added up to almost $9,500. Why?
"Maybe he just talked up his work more," one woman, a marketing major, suggests.
"Maybe he was mentored by other men," another says.
"Or maybe," chimes in a third, a nursing student, "she didn't know that she could negotiate."
Bgo Bingo. Over the next three hours, these women are going to learn how to do it — and to do it well.
There has clearly been much progress since President John F. Kennedy signed the Equal Pay Act in 1963, mandating that men and women be paid equally for equal work. Yet nearly 50 years later, if you look at the data, progress toward that goal has stalled.
Of course, not all statistics are created equal. Some account for education and life choices like childbearing; some don't. But if you sift through the data, the reality is still clear: the gender gap persists — and it persists for young, ambitious, childless women, too.
In October, the American Association of University Women — co-sponsor of the Mount St. Vincent program — offered a report called "Graduating to a Pay Gap," in which it determined that in their first year out of college, women working full time earned just 82 percent of what their male peers did, on average. Again, women's choices — college major, occupation, hours at work — could account for some of this. Even so, the A.A.U.W. determined that one-third of the gap remained unexplained.
For years, legislators and women's advocates have been seeking solutions. In many ways, the wage gap is a complicated problem tied to culture, tradition and politics. But one part of it can be traced to a simple fact: many women just don't negotiate, or are penalized if they do. In fact, they are one-quarter as likely as men to do so, according to statistics from Carnegie Mellon University. So rather than wax academic about the issue, couldn't we simply teach women some negotiation skills?
Ms. Houle, along with Evelyn Murphy, the WAGE Project president and a former Massachusetts lieutenant governor, aims to do just that. For almost seven years, Ms. Houle has been training facilitators around the country and introducing their program into schools. (WAGE stands for "women aim to get even.")
Now, working in conjunction with the A.A.U.W., they plan to have negotiation workshops — called Smart Start — in place by spring in more than 300 colleges and universities nationwide. Nearly 30 colleges have already signed up for three-year commitments.
Several other organizations have also begun working with schools, Girl Scout programs and Y.W.C.A.'s to coach women before they enter the work force.
At Smith College, the Center for Work and Life recently began a program called Leadership for Rebels that teaches young women assertive communication skills, through role-playing and workshops. At Carnegie Mellon, the Heinz School of Public Policy and Management will start its first Negotiation Academy for Women next month, led by the economist Linda Babcock. She is also the founder of a program called "Progress" that aims to teach similar skills to 7- to 12-year-old girls.
"I do think that people are really starting to take this idea seriously," says Professor Babcock, a co-author of "Women Don't Ask." "I think they're starting to understand that we have to train the next generation of women when they're young."
At Mount St. Vincent, the Smart Start workshop is broken into sections: understanding the wage gap, learning one's worth on the market, and practical negotiation, in which students use role-playing in job-offer situations.
Women learn never to name a salary figure first, and to provide a range, not a number, if they're pressed about it. They are coached not to offer up a figure from their last job, unless explicitly asked. The use of terms like "initial offer" — it's not final! — is pounded into them. And, perhaps most important, they learn never, ever, to say yes to an offer immediately.
"I can't tell you how many times I hear stories of women who go into a negotiation saying, 'Oh my gosh, thank you so much, I'll take it!'" says Ms. Houle, noting that one student she coached even hugged her boss. "Here these women are, more educated than ever, incurring incredible debt to get that education, and they're going to take whatever they're offered. It's like, 'No, no, no!' "
Many reasons exist for women's fears about asking for higher pay.
There's the fear of being turned down. ("I think we take rejection personally," Ms. Murphy says.) There's the economy. (If you negotiate in a tough market, might the offer be rescinded?) There's the fact that women, in general, are less likely to take risks — a business asset in the long run, but one that can make advocating for themselves tricky. There's also the reality that many women have internalized the idea that asking is somehow not ladylike.
"Girls and women intuit that speaking up can be dangerous to your reputation — that asking for too much can be viewed as conceited or cocky," says Rachel Simmons, co-founder of the Girls Leadership Institute and a creator of the Leadership for Rebels program at Smith. "This may begin on the playground, but it extends all the way into the workplace."
Research by the Harvard senior lecturer Hanna Riley Bowles and others has found that women who negotiate are considered pushy and less likable — and, in some cases, less likely to be offered jobs as a result.
That's why women's approach to negotiation is crucial. In one study, from Professor Babcock at Carnegie Mellon, men and women asked for raises using identical scripts. People liked the men's style. But the women were branded as aggressive — unless they gave a smile while they asked, or appeared warm and friendly. In other words, they conformed to feminine stereotypes.
"The data shows that men are able to negotiate for themselves without facing any negative consequences, but when women negotiate, people often like them less and want to work with them less," says Sheryl Sandberg, Facebook's chief operating officer, whose forthcoming book "Lean In" is about women and leadership. "Even if women haven't studied this or seen this data, they often implicitly understand this, so they hold back."
So, it's a balancing act. Ask, but ask nicely. Demand, but with a smile. It's not fair — yet understanding these dynamics can be the key to overcoming them, Ms. Sandberg says.
The good news is that all of these things can be learned. In 2003, when Professor Babcock was conducting research for her book, she surveyed Carnegie Mellon graduates of the management school, determining that 13 percent of women had negotiated the salaries in the jobs they'd accepted, versus 52 percent of men. Four years later, after a lengthy book tour and talking relentlessly about these issues on campus, she found that the numbers had flipped: 68 percent of women negotiated, versus 65 percent of men.
Ms. Simmons put it this way: "This is about muscles that need to be developed. This is about practice."
AND practice they will, one workshop at a time.
At the session at Mount St. Vincent, the women researched median wages and practiced speaking clearly and warmly. They tried to remember the three T's: tone (be positive but persuasive), tactics (never name a salary figure first) and tips (sell yourself, but anticipate objections; don't get too personal, but be personal enough).
"It was nerve-racking," said Ria Grant, a nursing student.
"I stuttered," recalled Danielle Heumegni, a sociology major.
And yet they felt good.
"I realized there's a way to sell myself without feeling uncomfortable," Dominique Remy said.
"You won't get anything if you don't at least try," said Erika Pichardo.
"This," Ms. Heumegni said, waving her set of pink dollar bills in the air, "was my aha! moment."
---
---
Related Articles
David Sengeh-Graduate Student- MIT Media Lab As a Sierra Leonean living in the country during and after the decade-long civil war,
BUSINESS leaders in India frequently suffer China envy. If only India's political system was like China's, they reason, the government
There are nearly 7.1 billion people on the planet. These are the 71 that matter the most. What do the