IWMF Releases REPORTA, A Free Mobile Security App Designed Specifically for Journalists Worldwide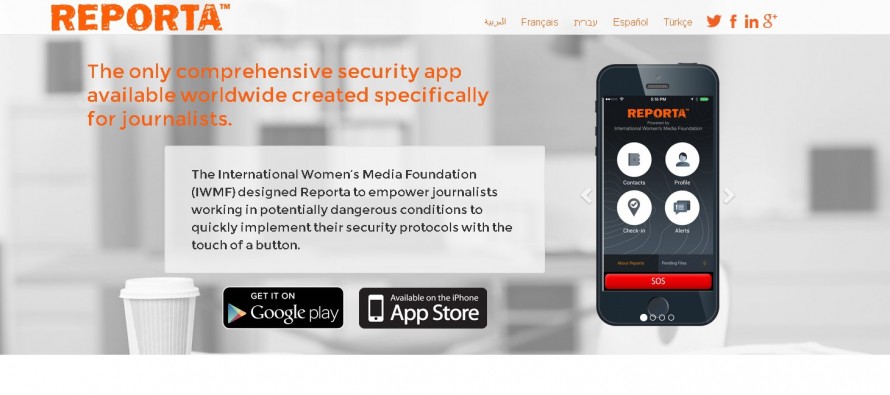 The International Women's Media Foundation (IWMF) has released Reporta, a free and comprehensive personal safety app for iPhone and Android devices that journalists working in potentially dangerous environments can utilize to quickly implement their security protocols. The app is designed specifically for journalists worldwide and available in six languages— Arabic, English, French, Hebrew, Spanish, and Turkish.
"Journalists covering conflict zones, working in repressive environments, or reporting on sensitive or highly charged issues are too often the targets of attacks," said Elisa Lees Muñoz, Executive Director of IWMF. "Reporta was developed with the goal to harness the power of the one piece of technology that most journalists use every day – a mobile phone. Now more than ever, it is critical to equip journalists with a free tool to help them stay safe and best positioned to continue to tell the significant stories of our time."
Reporta empowers journalists to be proactive with their security protocols, making it easy to issue notifications containing photos, audio, or video to designated, pre-loaded contacts using the app's three essential features:
1. An automated and customizable check-in system that allows journalists to provide key information about their location and status.
2. A customizable alert function that allows journalists to let key contacts know when their safety or that of a colleague's may be at risk.
3. A SOS feature that can be used to send an emergency message with the touch of a button.
Reporta's launch comes at a time when violence against journalists is on the rise. The last three years have been widely reported as the deadliest period on record. Too often, journalists reporting on corruption, conflicts, and other illegal or sensitive activities face threats of harassment, abduction, or even imprisonment. In addition, IWMF research found that nearly two-thirds of women in media had experienced intimidation, threats, or abuse as a direct result of their work. Reporta was designed to help journalists augment existing security protocols and trainings, such as Hostile Environment and Emergency First Aid Training (HEFAT), in any of these situations.
Reporta was made possible by a grant from the Howard G. Buffett Foundation. Additional support was provided by Al-Monitor, Inter-American Development Bank, and Facebook. IWMF worked in consultation with journalists across five continents, global security experts, and other partners in developing Reporta, including the Article 19, Global Journalist Security, International Center for Journalists. Reporta was built by RevSquare.
Building on Reporta, the IWMF plans to launch ReportaPro, an enterprise-scaled platform with back-end capabilities specifically designed for media organizations using Reporta. ABC News and Sinclair Broadcast Group are founding partners of ReportaPro.
Download and learn more about Reporta at http://www.reporta.org
A tutorial video and digital media assets are available online at iwmf.org/presskit
ABOUT IWMF: For 25 years, the International Women's Media Foundation (IWMF) has been dedicated to strengthening the role of women journalists worldwide. The media is not truly free and representative without the equal voice of women. Our work celebrates the courage of women journalists who overcome threats and oppression to report and bear witness to global issues. Through our programs and grants we empower women journalists with the training, opportunities, and support to become leaders in the news industry. IWMF.org
---
---
Related Articles
Buzzfeed-A class action suit about Facebook's Sponsored Stories feature resulted in a $20 million settlement. Up to $10 of that
The U.S. Department of State's Bureau of Educational and Cultural Affairs (ECA) has launched the Academy for Women Entrepreneurs (AWE),
You may love Lady Gaga. You may hate her. But no matter what, it's hard not to respect what she's