Young Afghan girl wins prize in international WFP Children's Design Competition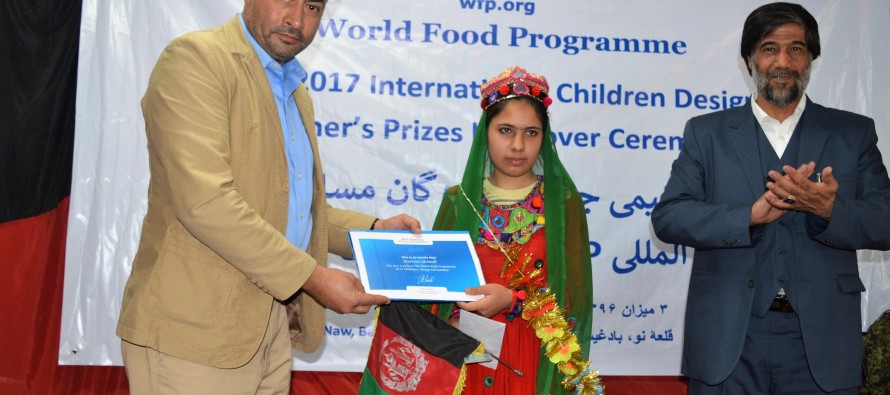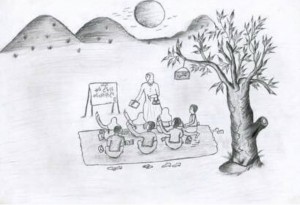 Artwork by Mariam Ahmadi has been named as one of the winners in the international WFP Children's Design Competition for 2017, buy brand name levitra made in usa organized by the United Nations World Food Program.
The winning design portrays Miriam's experience of her school in Badghis province, where students sit under trees or in the school yard because there are not enough classrooms. The moving drawing, which depicts one of her literacy classes, cost of propecia was among 20 finalists chosen from a short list of 120 drawings by schoolchildren in 22 different countries.
Recently, in Badghis province, WFP presented Mariam, aged 12, and her school with a prize in recognition of the excellent work they do despite their challenging situation.
All the students competing in the event are attending schools that participate in WFP's worldwide school meals programs, which are designed to both fortify the health of school children as well as keep them in the classroom even during difficult times. Students receive meals or snacks in school, and/or take-home rations.
Around the world, This is a great product, I like that it comes in a blister pack and does not need refrigeration best levitra online price. We offer Canadian medications from a fully licensed Canadian mail order pharmacy. WFP provides food to more than 16 million children in school meals programs in 60 countries. Education plays a significant role in breaking the cycle of hunger, and WFP strives to reach the poorest and most vulnerable children.
Mariam loves drawing and wants to travel the world. Through her drawing, she wishes to show her country's problems. She dreams of becoming a heart surgeon when she grows up.
"The vegetable oil I receive from WFP, is enough for my family, we don't need to buy cooking oil from market," vows the seventh grade student at Abgarmak girl's high school in Qala-INaw, Badghis province. "I want to continue my study and go to Turkey for my higher education."
"These children are the future of Afghanistan. To ensure a healthy future for the country we must  invest in their education today," said Mick Lorentzen, WFP Representative and Country Director for Afghanistan.
---
---
Related Articles
(Tolo News) A 29-year-old Afghan man living in Britain for the past 12 years cycled from London to Kabul, arriving
It takes just as much effort to have a wonderful day as it does to have a miserable one. Why
Dr Susan Nicholson: Organizational psychologist and partner at Mentors Psychology has -researched the ten things boss hate about employees: 1.