ADB & SAARC Development Fund have signed MoU for the development of SAARC Region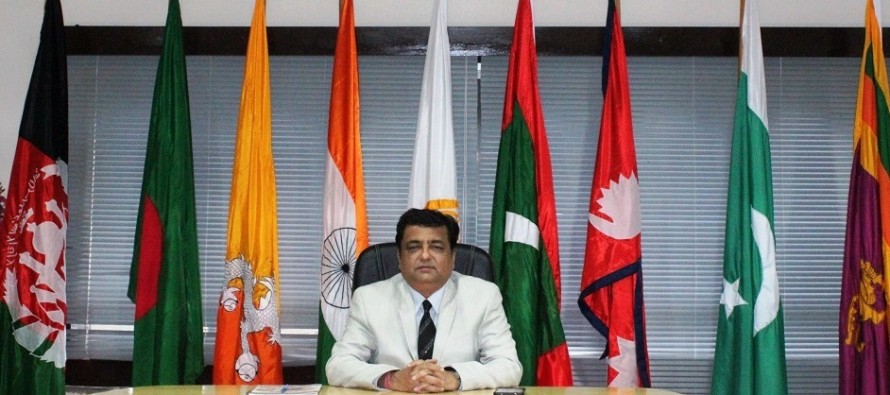 Dr. Sunil Motiwal , Chief Executive Officer, SAARC Development Fund has confirmed that Asian Development  Bank (ADB) and SAARC Development Fund (SDF) have signed an MoU and agreed to:
Collaborate for the development of the SAARC region through co-financing of projects and programs focusing on regional connectivity /integration and economic cooperation among the SAARC Member States.
Make efforts to mobilize new funds in jointly finances projects/programs and activities,
provide technical assistance and investments for co-financing on the three windows of SDF, Micro Small Medium Enterprises (MSME) Program, Social Enterprise Development Program and any other new areas which can be covered under the MoU.
Speaking on the occasion, Dr. Motiwal reiterated SDF's commitment to the idea of promoting regional connectivity across the SAARC region by strengthening cooperation in the areas of transportation, infrastructure development and investment & trade by collaborating with prestigious organizations such as ADB. Economic corridor connecting the SAARC Member States economies can be established in collaboration with development partners such as ADB.
Areas such as Transport, road connectivity, ICT, industrial development, trade & investment and energy will be the focus areas of co-funding of projects in the SAARC Member States. ADB has already submitted a road connectivity  Project Proposal titled " South Asia Sub Regional Economic Cooperation (SASEC) Road Improvements Project, Nepal to SDF for co-funding.
ADB, based in Manila, is dedicated to reducing poverty in Asia and the Pacific through inclusive economic growth, environmentally sustainable growth, and regional integration. It is owned by 67 members—48 from the region. In 2015, ADB assistance totaled $27.2 billion, including co-financing of $10.7 billion.
SDF was established by the eight SAARC Member States in April 2010 to promote the welfare of the people of SAARC region, improve their quality of life, and to accelerate economic growth, social progress and poverty alleviation in the region. The Fund is to serve as the umbrella financial institution for SAARC projects and programs which are in fulfillment of the objectives of the SAARC Charter. SDF has three funding windows viz. Social, Economic and Infrastructure.
SDF has recently signed an MoU with SIDBI in order to collaborate for the growth and strengthening of MSME sector in SAARC Member States. SDF is also in the planning to provide soft loan on long term basis.
SDF is also in the process of collaborating with Asian Infrastructure Bank (AIIB) and New Development Bank (NDB) for co-funding of projects in SAARC Member States especially in the areas of ICT, transport, connectivity and energy. SDF is considering to form a consortium of Financial Institutions for the strategic growth of South Asia.
---
---
Related Articles
Recording an annual growth of 9% until two years ago, India's economy grew at its slowest pace in a decade
David Beckham has topped a list of the richest people in sport in the UK and Ireland. The LA Galaxy
BBC-Three men have been arrested in connection with continuing investigations into the manipulation of the Libor inter-bank lending rate. The