Apple unveils iPhone 8 and 8 Plus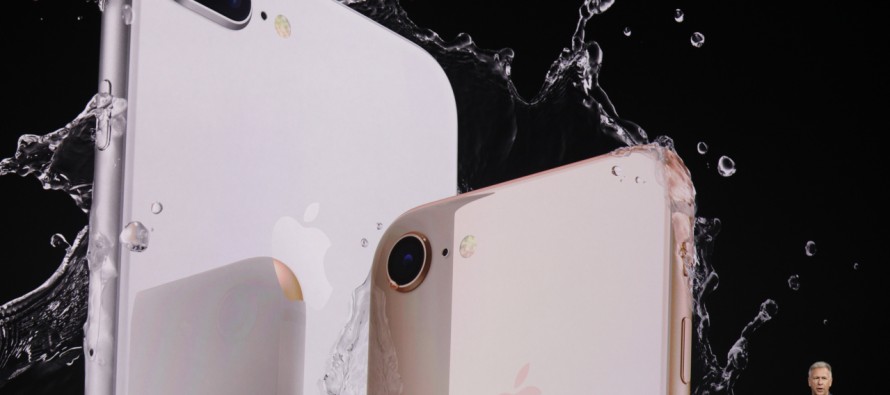 Apple officially unveiled the iPhone 8 and 8 Plus models today featuring with faster processors, a True Tone display and upgraded cameras.
One of the biggest changes in the latest model is its glass back in order to enable one of the biggest internal changes: inductive wireless charging, which wouldn't have worked through the aluminum shell of the old model. And, like the iPhone 7, there's still no 3.5mm headphone jack.
Some of the other technical changes made are as follows:
Upgraded processor from A10 Fusion to A11 Bionic, which is 25% faster than the previous model. 4 performance cores that are 70% faster. New GPU that's 30% faster, with the same performance as the A10 at half the power
Camera front: 12-megapixel sensor that is larger and faster with optical image stabilization. Dual cameras on the 8 Plus have a new "Portrait Lighting" feature to adjust the lighting for portrait shots.
"iPhone 8 is the first smartphone designed for augmented reality, with cameras calibrated for AR, along with a new gyroscope and accelerometer for better motion tracking," says Apple.
The iPhone 8 will start at $699 for a 64GB model, while the 8 Plus will start at $799 for 64GB of storage. Both models will also have larger 256GB models, for as yet unannounced prices. Both phones will be available for preorder starting Friday, September 15th, with a release date a week later on September 22nd.
---
Related Articles
China has fined the giant pharmaceutical firm of the UK, GlaxoSmithKline (GSK), USD 490mn for bribing doctors and hospitals in
Bishkek, Kyrgyz Republic, 19 December 2012 – The University of Central Asia, in collaboration with Government of the Kyrgyz Republic
Russian President Vladimir Putin on Saturday signed into law a package of sanctions against Turkey following the shooting down of