Apple Unveils New iPhone 5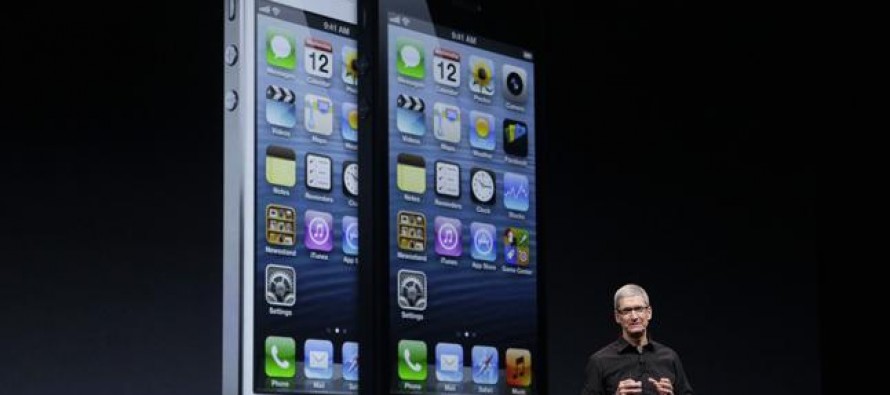 In the event dubbed as the "largest consumer electronics launch in history", Apple has unveiled a new iPhone that is bigger, faster, thinner and 4G capable.
Apple launched its newest smartphone in San Francisco on Wednesday, the iPhone 5, showing off a new-look mobile phone with a bigger, 4 inch screen but a slimmer, aluminium backed body, high speed internet connectivity, a new camera lens with panoramic mode, and a faster processor promising twice the speed.
Apple marketing chief Phil Schiller revealed the iPhone 5 following months of speculation, announcing a phone "unlike anything anyone has made before".
"It's the thinnest phone we have ever made and it is the lightest as well."
 The performance of the latest iPhone will be crucial to Apple's fortunes.
According to the firm's most recent earnings report, 52% of $120bn total net sales were from the iPhone and related services and accessories. Ninety eight million handsets were sold in the nine month period to July.
This has helped push Apple's share price to new heights, with the firm valued at $637.85 bn at the end of last week based on its share price.
However there is intense competition, with Samsung now leading the smartphone market with a 32.6 percent share followed by Apple with 17 percent, according to market research firm IDC, and the rivalry could intensify in the coming months.
 "Samsung has been very efficient pushing and promoting their devices offering the biggest commissions to sales people," Said Francisco Jeronimo, research manager at IDC.
"The momentum they are gaining with consumers is very high and people see it as a very innovative brand – and customers are clearly looking for innovation rather than just refinements. Samsung will also be likely to make further gains by making price cuts before Christmas."
Apple shares ended the day up 1.4 percent at $669.79.
---
---
Related Articles
Greece may have given us the word democracy and many of the principles of civil society. But now it is
Protesters took it to the streets, expressing their angers at the plunging of the Rial currency. Foreign exchange dealers, some
UK's GDP dropped 0.3% in the first quarter of the year, confirming UK's double-dip recession phase. Households spending fell and