Black Friday Sales in the US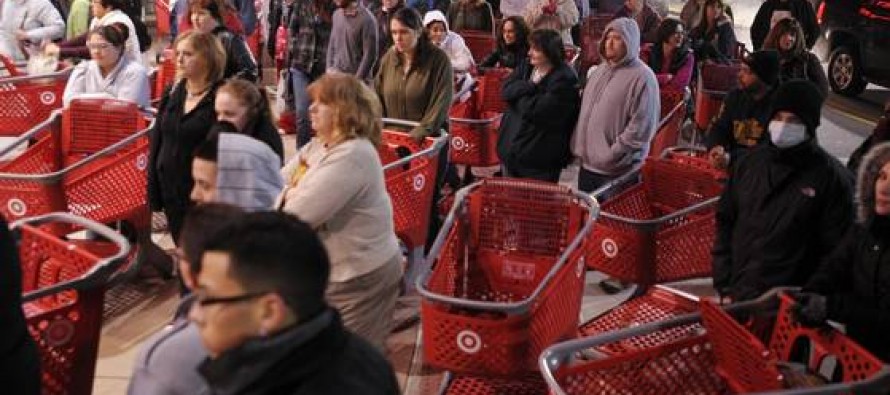 Black Friday is the day of shopping after Thanksgiving, traditionally the beginning of the Christmas shopping season. Major retailers open extremely early and offer huge discounts to kick off the holiday shopping season.
The term was first recorded in 1966 by Earl Apfelbaum, a dealer in rare stamps. In his ad, he said "'Black Friday' is the name which the Philadelphia Police Department has given to the Friday following Thanksgiving Day. It is not a term of endearment to them. 'Black Friday' officially opens the Christmas shopping season in center city, and it usually brings massive traffic jams and over-crowded sidewalks as the downtown stores are mobbed from opening to closing." The Police Department coined the phrase to describe the mayhem surrounding the congestion of pedestrian and auto traffic in the Center City downtown area. (Source: The Chicago Tribune, "Black Friday – Why and When?)
A survey estimated that 147 million people would go shopping between Friday and Sunday in the USA this year, despite more shoppers going online.
What is Thanksgiving?
Thanksgiving is the day to remember the celebration by the Pilgrims who came in the new North American colony. They celebrated this day by having a feast with some Native Americans in the area that helped them get food. The Pilgrims wanted to thank the Indians for helping them survive in the new world.
Today, Thanksgiving is a time together with family or friends. Turkey is definitely a popular food on Thanksgiving!
Thanksgiving is a feast of thanksgiving, held on the fourth Thursday in November in the United States, and the second Monday in October in Canada.
---
---
Related Articles
China pledged USD 20bn in credit for Africa at a summit in Beijing with leaders from 50 African nations. Africa
Visa Inc., MasterCard Inc. and banks that issue their credit cards have agreed to a $7.25 billion settlement with U.S.
 The phrase "fiscal cliff" is now part of the American lexicon, describing the looming deadline when tax cuts expire and