Greece unemployment rate hits a record high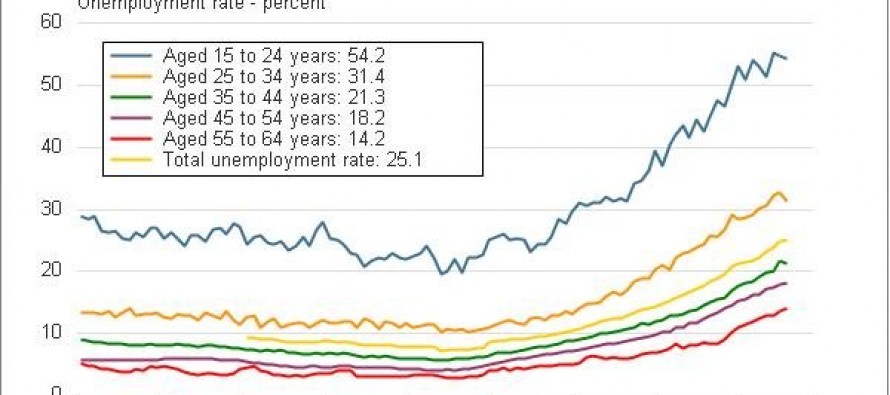 The latest official figures show Greece's unemployment rate to be at 25.1%, with austerity cuts continuing and Greece is enter another year of recession.
The unemployment level among young people has reached 54.2%, the 15-24 age group being the worse-affected group, including those in education.
According to Greece's statistics agency the total unemployment rate rose from 24.8% in June. In July 2008, a year before Greece's financial crisis broke, there were about 364,000 registered unemployed.
"This is a very dramatic result of the recession," said Angelos Tsakanikas, head of research at Greece's IOBE economic research foundation. He did not expect employment to pick up for at least a year
The new unemployment figures have angered the anti-austerity groups, fueling their arguments against the entire strategy of Greece's international lenders and pressure on more austerity cuts that is pushing the country to "break point and stunting growth".
They argue that before Greece was bailed out in April 2010, unemployment stood at only 11.8%.
---
---
Related Articles
A number of news sources in the West have reported that Pakistan would most likely face serious economic problems in
With a total of 17.56m people now out of work, unemployment in the Eurozone hit 11.1% in May. Eurozone marks
Greece's two governing parties, which back tough austerity measures, have lost their parliamentary majority in Sunday's election. With almost all