India's Nationwide Strike Against Supermarket Reforms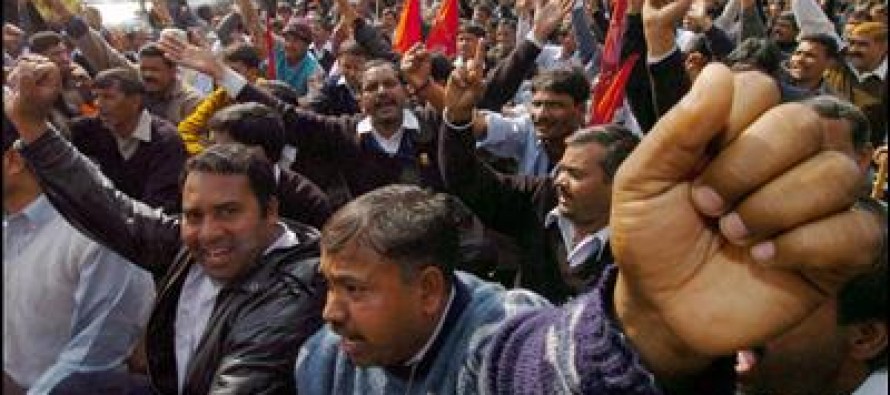 Demonstrators in India have taken to the streets to protest against a major hike in diesel prices and the opening up of India's retail sector to foreign supermarkets such as Wal-Mart and Tesco.
The Confederation of All India Traders (CAIT) forecast that 50 million people will participate in the protests, with large demonstrations planned in the capital, New Delhi. Opposition parties and trade unions are also joining in the day – long strike.
Many small business owners and workers fear that the arrival of large scale supermarket chains will lead to drastic job losses as India's supply chains and shopping habits are transformed.
"Multinational companies will destroy the economic and social fabric of the country and will adversely impact traders, transporters, farmers and other sections of retail trade," CAIT secretary-general Praveen Khandelwal said.
India's government is facing political turmoil after it introduced a raft of economic reforms last week, with a key coalition party quitting the government and demanding the policies are reversed.
"People are supporting us in this strike because they are angry at the recent decisions of the government," said Prakash Javedkar, a spokesperson of the main opposition Bharatiya Janata Party (BJP
"The prime minister must resign and we are pressing for this."
The arrival of international chains in India is expected to herald a consumer revolution, with shoppers moving from small neighbourhood stores to large out of town supermarkets.
"We want to go on strike because shopkeepers in India are going to lose business," said Deepak Sethi, a trader in south Delhi's Bhogal market, whose store opened 45 years ago.
"These big companies can attract customers by selling at cost prices. That means people here are going to lose jobs. Shops like ours will be hit the most."
The Prime Minister, Manmohan Singh, and other industry leaders argue that a modern retail system would improve value and choice for Indian consumers, create new jobs and enable farmers to reduce wastage.
However the government, weakened by the worst quarterly GDP figures in three years, faces a major hurdle to push through the reforms and boost the economy before the 2014 elections.
---
---
Related Articles
Technology giant Apple and major book publishers are being sued by the US Department of Justice over the pricing of
ZTE Corporation's shares have been hit hardly amid probe by the U.S. government of their sale of banned U.S. computer
China has become the world's second largest movie market, with box office revenues surging to USD 2.7bn in 2012. This