SAARC Development Fund & SAARC Chamber of Commerce working together for regional integration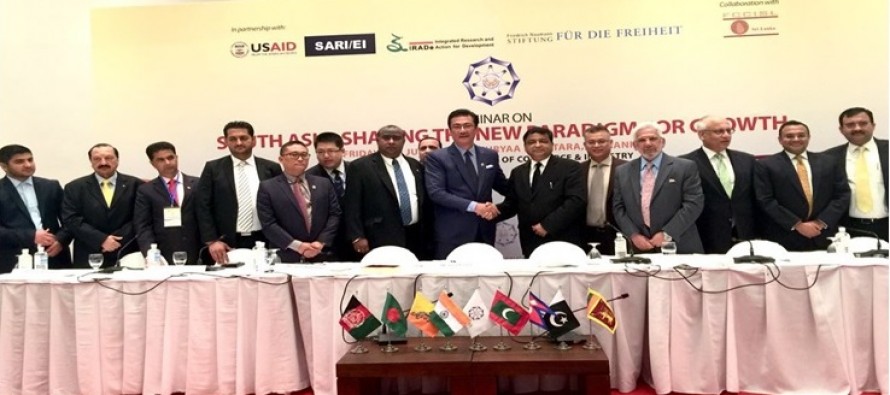 Dr. Sunil Motiwal, CEO of SAARC Development Fund (SDF) and  Suraj Vaidya, President of SAARC Chamber of Commerce and  Industry (SCCI) have jointly announced to work together for regional integration and economic cooperation among the SAARC Member States through project collaboration and co-financing of projects under the three windows of SDF. Both the organizations are committed towards the idea of promoting regional connectivity across the SAARC region by strengthening cooperation in the areas of transportation, infrastructure development and investment & trade through co-funding. This was decided during the conference "South Asia: Shaping the New Paradigm or Growth" organized by SCCI at Kaluatra, Sri Lanka. Dr. Motiwal was invited by SCCI as one of the speakers of this important event.
About SAARC Chamber of Commerce and Industry
SCCI was established in 1985, to bring about improvement in the business environment disseminate information about potential tradable goods and identify joint ventures in the SAARC region. The SAARC Secretariat commissioned a study on Trade, Manufactures and Services in 1988 which strongly supported to establish a SCCI. The draft Constitution of SCCI assisted by National Federations was approved in December 1992. Presently all National Chambers/ Federations of the respective member countries serve as focal points to facilitate the SAARC CCI Secretariat in Islamabad.
About SAARC Development Fund
SDF was established by the eight SAARC Member States in April 2010 to promote the welfare of the people of SAARC region, improve their quality of life, and to accelerate economic growth, social progress and poverty alleviation in the region. The Fund is to serve as the umbrella financial institution for SAARC projects and programs which are in fulfillment of the objectives of the SAARC Charter. SDF has three funding windows viz. Social, Economic and Infrastructure.
---
Tags assigned to this article:
SAARC
---
Related Articles
The eurozone's private sector contracted sharply in April and by more than initially thought, a survey says. The Markit eurozone
Italian company Eni and Anglo-Dutch company Shell are accused of being involved in a corrupt oil deal that could lead
Phone maker rings in 2012 with one of its worst ever quarters, citing tough competition and a rapidly evolving industry.