UCA and Kyrgyz Government host national roundtable on "Local Self-Government in Kyrgyzstan" for Village District heads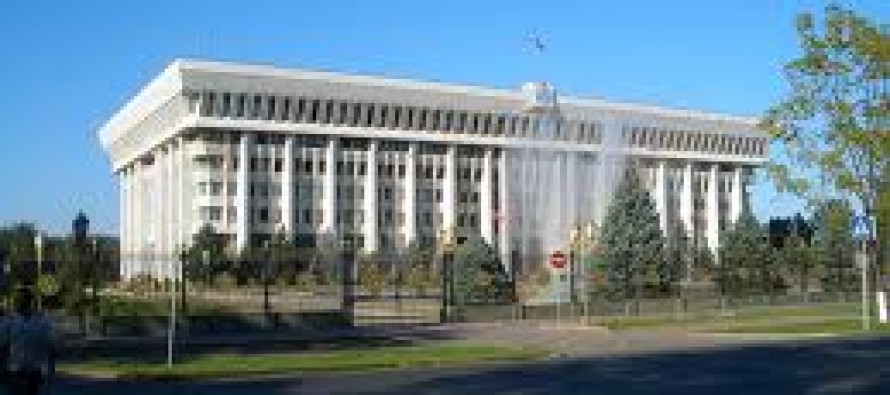 Bishkek, Kyrgyz Republic, 19 December 2012 – The University of Central Asia, in collaboration with Government of the Kyrgyz Republic (GoKR), hosted a national roundtable on "Local Self-Government in Kyrgyzstan: State and Opportunities for Development"for 60 heads of Aiyl Okmotu (AO), representatives from the Government,  ministries and state agencies, Parliament deputies as well as the representatives of international donors institutions free trial of viagra on 19 December 2012.
Vice Prime Minister of the Kyrgyz Republic Mr Tairbek Sarpashev; Chair of the Parliamentary Committee for Agrarian Policy, Water Resources, Environment and Regional Development,
Saidulla Nyshanov; Director, State Agency for https://blog.olcsobbat.hu/cialis-cheapest-price/ Reconstruction and Development, Kanybek Narbayev; and and UCA Director General, Dr Bohdan Krawchenko presented opening remarks to participants.
This national roundtable levitra sales online brought together 60 heads of Ayil Districts of the Kyrgyz Republic, providing a unique and rare opportunity for Aiyl Okmotu and state agency representatives to discuss pressing local governance issues.
This format allowed participants to engage in in-depth discussions and provide feedback on the working 'Medium-term local Self-Government Development Strategy (2012-2017)' strategy developed by the State Agency for Reconstruction viagra health store and Development. The forum also allowed participants to discuss results of village level assessments and exchange opinions on key topics such as water resource management and internal capacity-building within the local self-government system. A team of experts shared their experience in essential topics on reforming self-governance and municipal management.
The National Roundtable culminates a series of successful round tables on "Regional Development – Foundation of Reforms" in the southern and northern regions of the Kyrgyz Republic for the heads of local self-government bodies from each Oblast. Three regional roundtables were held across the country, bringing together local self-governments from Issyk – Kul, Naryn, Batken, Jalalabad, Osh, Chui and Talas oblasts.
"This final national roundtable follows a series of regional roundtables organised by UCA and SACRD. The rate of participation by representatives of local self-government was an impressive 100 per cent with each of the 459 Aiyl Okmotus in the country attending one roundtable. This is the first time local and national government have a platform to discuss key issues and the outcomes will influence future governance," said Dr Bohdan Krawchenko, UCA Director General.
Active participants from the regional roundtables formed part of the 60 local government participants at the National Roundtable. A number of these participants will also pursue UCA's School of Professional and Continuing Education Local Economic and Community Development certificate programme, which equips civil servants with necessary skills for effective local administration.
In 2011 – 2012, SPCE trained 30 representatives from the State Agency for Reconstruction and Development and 15 heads of Ayl Okmotu from Naryn oblast. In the 2012 – 2013 academic year, SPCE is expected to train 100 representatives from ministries, departments and heads of AO across the country, enabling them to serve as key resources both within local government and their community.
The National Roundtable was  broadcast live reaching a broader audience, enhancing the reach and value of discussions on participants' experiences and achievements in addressing challenges faced by local government.
The National Roundtable is supported by the Promoting Stability and Economic Opportunity in Kyrgyzstan project, a two-year initiative funded Norwegian Ministry of Foreign Affairs and administered by the Aga Khan Foundation, Kyrgyz Republic.
For further information please contact:
Urmat Chokulov
University of Central Asia
138 Toktogul Street, 720001 Bishkek
Kyrgyz Republic
Mobile: +996 770 822 854
Email: urmat.cholukov@ucentralasia.org
Notes:
The University of Central Asia
The University of Central Asia (UCA) was founded in 2000. The Presidents of Tajikistan, the Kyrgyz Republic, and Kazakhstan, and His Highness the Aga Khan, signed the International Treaty and Charter establishing this secular and private University; ratified by the respective parliaments, and registered with the United Nations. UCA brings with it the commitment and partnership of the broader Aga Khan Development Network. For more information, please visit the UCA website at www.ucentralasia.org.
---
---
Related Articles
According to an HSBC survey, China's Purchasing Manager's Index (PMI) rose to 49.5 in July, a five-month high and up
South Korea's economic growth dropped from 2.3% in the previous quarter to 1.6% in the July to September quarter. The
Nintendo has shown off 23 of the first games to be launched on its upcoming Wii U console. Several –