US to print new 100 dollar bills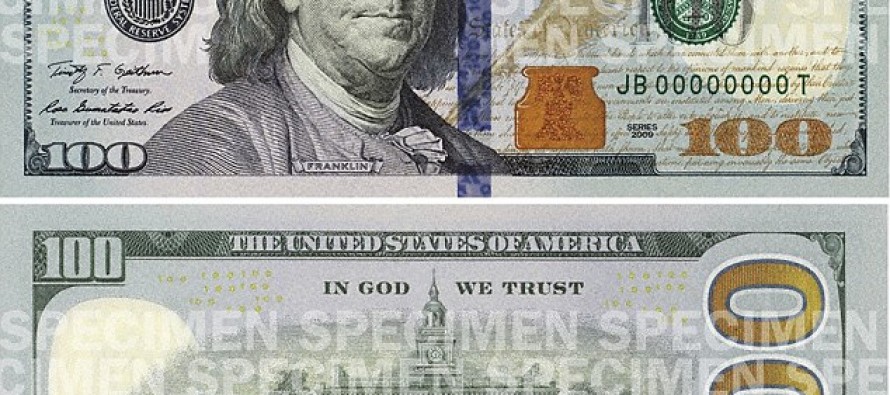 The United States Central Bank, the Federal Reserve, have said new $100 bill which has been redesigned with high-tech security features will be circulated throughout America in October.
The revamped note includes https://wadsam.com/shop/viagr-a-pfizer/ added security features to prevent it from being forged by counterfeiters.
According to the Daily Mail, the new features include a blue, 3-D security ribbon and a disappearing Liberty Bell in an inkwell that switches color from copper to green when tilted. It also boasts a large '100' that also shifts colors when the viewing angle is tilted.
The decision to bring in the new note is a bold step for the U.S, which is normally slow to change its currency.
The $100 bill – which is the largest denomination left in circulation – had its last makeover in 1996 and is the last note to undergo an extensive redesign.
The new dollar bills were expected to go into circulation in 2011, but due to production issues that left unwanted creases .Good quality, will reorder, canadian pharmacy with lowest generic viagra. Discuss your general health status with your doctor to ensure that you are healthy enough to engage in sexual activity. in many of the notes, it was delayed.
'We made numerous process changes to address the creasing issue and we are back in full production,' Daily News quotes Dawn Haley, a spokeswoman for the Bureau of Engraving and Printing.
Like the old note, the new one has a watermark of Franklin's portrait, also visible when held up to light.
The banknote is the highest value denomination in general circulation and the most frequent target of counterfeiters due to its broad circulation overseas.
---
---
Related Articles
Tens of thousands of people have protested in a number of Spanish cities to mark the first anniversary of the
Russian President Vladimir Putin on Saturday signed into law a package of sanctions against Turkey following the shooting down of
The rate of growth in the South African economy slowed sharply in the first quarter of the year, hit by