WTO approves Kazakhstan's membership after 19-year negotiations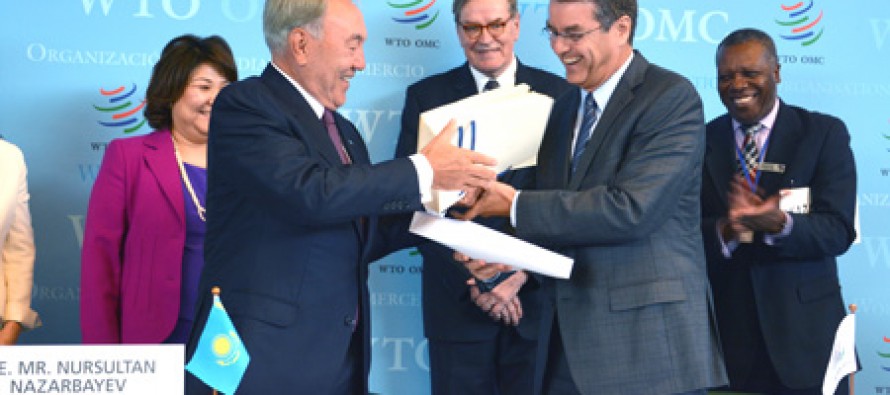 Kazakhstan is set to become a member of indian levitra tablets the World Trade Organization (WTO) after a 19-year accession process.
WTO members formally adopted Kazakhstan's WTO terms of entry at the General Council meeting on 27 July 2015, in the presence of Kazakhstan's President Nursultan Nazarbayev. Kazakhstan will have until canada cialis no prescription 31 October 2015 to ratify the deal to formally become a WTO member 30 days after it notifies the ratification to the WTO Director-General.
WTO Director-General Roberto Azevêdo and President Nazarbayev signed the Protocol on the Accession of Kazakhstan following the General Council's approval of the country's WTO terms of entry.
"I think this is a truly historic occasion for Kazakhstan, https://wadsam.com/shop/buying-levitra-online/ and for the WTO. In approving Kazakhstan's accession protocol we are concluding almost two decades of negotiations. Moreover, we are delivering a result which will have a major economic impact, a major systemic impact, and a major human impact. Because, crucially, the benefits of accession can help to create jobs, raise incomes, and improve people's lives.
"For Kazakhstan, this is recognition of the efforts you have made over recent years and your commitment to this process. It is an endorsement of the extensive programme of reforms which you have undertaken. And it is a message to the world that Kazakhstan is open for business. Kazakhstan's accession adds an important voice to our discussions here. It brings the organization closer to the heart of Central Asia. And it brings us closer to our goal of universal membership."
Kazakhstan President Nazarbayev expressed optimism about the opportunities for foreign investment that the membership would open up for his country.
He said he was committed to opening up its financial and telecommunication sectors as agreed during its accession process.
"Together, we have done quite an impressive job. We are sincerely grateful to each of the WTO Member States for their constructive approach and support throughout a very tough negotiation process. During the negotiations of our accession to the WTO, the configuration of Kazakhstan's economy has changed dramatically. Today, we are doing business with 185 states of the world.
"Over the past years, we have come a long way to integrate Kazakhstan's economy into the global market. We have proceeded to implement ambitious institutional reforms. They include further development of international economic cooperation. Effective implementation of the reforms will help to shape a brand new institutional environment. Kazakhstan will soon start working under the WTO rules. Yet for a long time now, we have been shaping our economic policies in the spirit of the WTO, by removing barriers, acting as an engine of regional integration and promoting the principles of open collaboration."
An overview of Kazakhstan's commitments is here.
---
---
Related Articles
U.S. small business hiring slowed considerably in the April and employees saw a reduction in their hours, an independent survey showed on
Eurozone finance ministers and the IMF have reached an agreement to release urgently needed loans to Greece in order to
BBC-Women and girls were hit the hardest by the global recession, according to child rights and development organizations. "The world