Afghan National football team heads to Nepal for SAFF Gold Cup
in Sports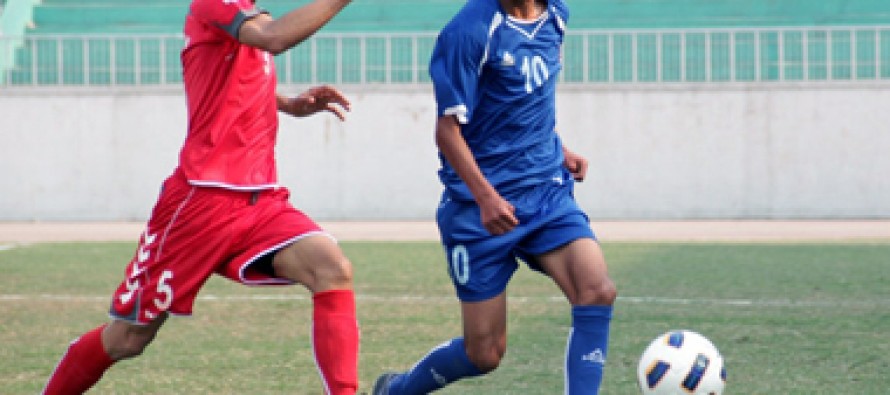 Following their discount viagra drug historic 3-0 win over their Pakistani rivals in Kabul on Tuesday, the Afghan National Football Team plans to depart in less than a week for the South Asian Football Federation Gold Cup (SAFF) in Nepal.
Mohammad Yusuf Kargar, the National Team coach, said that his squad's decided victory over Pakistan provided a forewarning to the other countries participating buy levitra nz in the SAFF tournament.
"This team is very young, and with this technically gifted group we will be one of the finalist of the SAFF Gold Cup. We will try to bring the cup home for Afghans," said Mr. Kargar.
Following their memorable win against Pakistan in the jam-packed Football Federation Stadium on Tuesday, the National Team players and coaching staff were all invited to President Karzai's palace where they were received warmly and congratulated by the Afghan president.
According to a statement released by the President's office on Wednesday, the head of the Afghan Football Federation (AFF), the deputy head of the National Olympic Committee as well viagra tablets for sale as the Pakistani National Football Team were also invited to the Presidential Palace.
"President Karzai said yesterday's match between Afghanistan and Pakistan was a friendly and energetic competition, and he encouraged both teams to strengthen the relationships between them," the statement read.
Since yesterday's game, members of the National Team have appealed to the Afghan government and business community for more financial support.
"If the government and businessmen support and invest in Afghan players, we will beat the football teams of other big countries," said Mustafa Maroofi, who plays striker on the Afghan propecia best price uk squad. Maroofi scored the third goal notched by the Afghan team in Tuesday's match, a one-touch rocket from outside of the box into the upper left corner that left the Pakistani keeper with no chance of making a save.
More than eight thousand people attended the match in Kabul on Tuesday. Tens of thousands more watched it live on TOLO TV and Lemar. The return match between the two sides is planned for December, 2013 in Islamabad, and is sure to be another highly anticipated meeting.
However, with Tuesday's win now in the books, many will have high expectations for the Afghan squad at the SAFF tournament next week. Back in 2011, when India hosted the tournament, the host team defeated the Afghan side by an embarrassing four goals to none.
The (SAFF) Championship kicked off in Kathmandu in 1997, evolving out of its forerunner, the South Asian Association of Regional Cooperation (SAARC) Gold Cup.(Source Tolo News)
---
---
Related Articles
Afghanistan have jumped an incredible 48 places to move to 141 in the world (from 189). This result comes after
The Committee for Afghan Athletes in Europe said that Osman Anwari, an Afghan athlete won a bronze medal in the
The Afghanistan national cricket team was declared winner of the Zimbabwe series after winning One Day International (ODI) and one