Afghanistan brings home SAFF cup
in Sports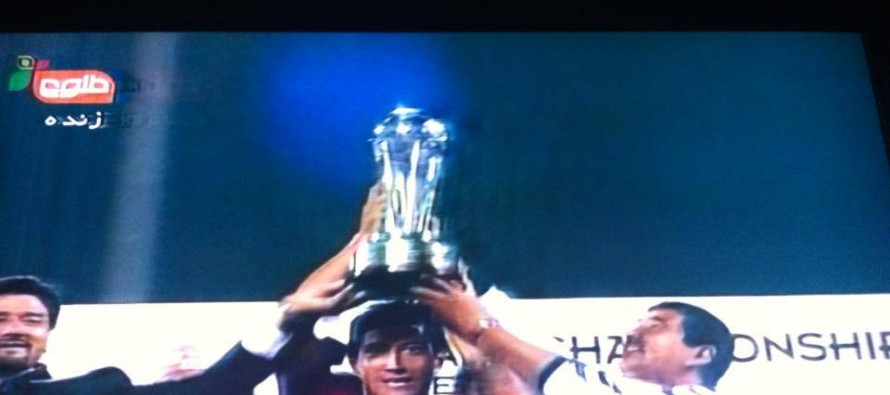 In a highly anticipated championship match, the Afghan National Football Team defeated India soundly 2-0 on Wednesday night to take the 2013 SAFF Cup. It was the first time in history Afghanistan has won the tournament.
Celebrations erupted around the country as fans saw their national team sieze a victory that marks a new height for Afghan football, which has seen a steady stretch of success this year. Having defeated Pakistan in Kabul for the first time in 37 years back in August, the SAFF victory solidifies Afghanistan's status as a new regional football powerhouse.
The first goal came early on in the 8th minute when Mustafa Azadzouy (#7) touched a near-post shot past Indian goalkeeper Subrata Pal. Indian players expected an offsides call, but the official kept his flag down. Azadzouy was able to split two defenders with impeccable timing and recieve a quick seem pass from his teamate that placed him right in front of goal.
Afghanistan largely dominated the rest of the half, though what chances India had were close ones. But the hero of the semi-finals, Afghan goalkeeper Mansur Faqiryar (#1), was able to deny the Indian attackers each time. Faqiryar was named the Most Valuable Player of the tournament during the awards ceremony following the match.
The second goal came in the '62 minute when Sandjar Ahmadi placed a delicate chip over an out-stretched Pal from the top of the penalty box. Although the Indian goalkeeper was able to get a touch on it as he back-tracked, and it looked for a second as if an Indian defender would be able to clear the ball off the line before it crossed, the arching shot made it by both of them and came to rest in the net as the Afghan players went wild.
It was not as dramatic as Afghanistan's semi-finals match against the hosts of the tournament, Nepal, which was won by a single goal and saw two back-to-back penalty shots saved by Faqiryar. Nevertheless, the sweet taste of unprecedented championship victory is sure to satisfy the team and its fans unlike any other game in recent memory. (Source: Tolo News)
---
---
Related Articles
Afghanistan will compete in the 2014 AFC Challenge Cup after a nail-biting third match in the qualifiers in Laos on
Following his word record 85.3m pounds from Tottenham, Gareth Bale has joined Real Madrid. The forward player was welcomed by
The match between Shaheen Asmayee and Oqaban Hindukosh in the 2013 Roshan Afghan Premier League (RAPL) held on Monday, ended