Afghanistan finishes 0-0 draw against Maldives in SAFF Cup
in Sports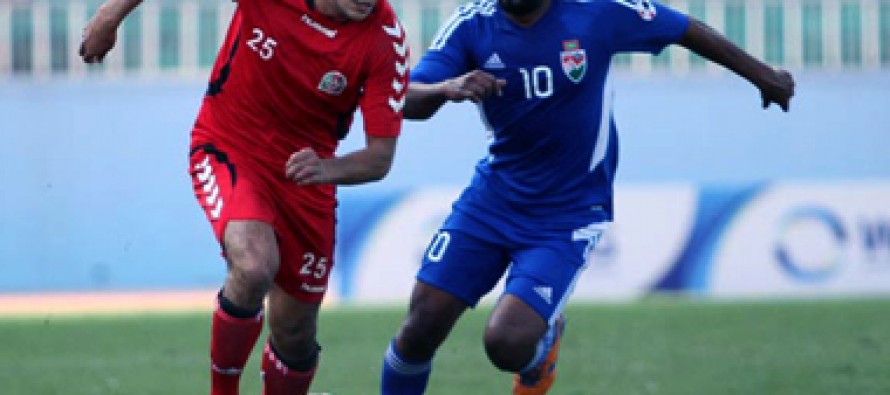 The Afghan National Football Team finished a 0-0 draw against the Maldives on Friday, but is still set to face-off in the semi-finals of the SAFF Cup with hosts Nepal at the Dashrath Stadium on Sunday.
The Maldives had the first offensive opportunity of the match with a long ball played towards Assadhulla Abdulla saw him cut in on Mustafa Hadid (#25) and unleash a shot which Farzad Ataee (#14) did well to clear.
Afghanistan had its own good chance to take the lead in the first half when Yusef Mashriqi (#9) received a cross from Mohammad Marouf (#16), but he failed to slot the ball in.
The remainder of the first half was primarily a dog fight in the midfield, leaving both teams with an equal share of unsustained possession.
In the second half, the Afghan side had a golden opportunity slip through its fingers when Sandjar Ahmadi (#11) broke away in a free fast break toward the Maldives goal, but goalkeeper Imran Mohamed was ready and waiting and able to stuff the streaking attacker.
Despite Afghanistan's dominance in the second half, and the strategic changes made by coach Yousef Kargar, the two teams ended in a 0-0 draw.
"The match was good and the players fought and defended very well as in the previous matches," Kargar said after the game.
Supporters back in Kabul were satisfied with the team's performance against the Maldives and looked forward to the semi-finals match on Sunday.
"They played well and its great they will face Nepal in the semi-finals, I'm very happy," said one football fan in Kabul.
Before this, the Afghan team beat Bhutan 3-0 and Sri Lanka 3-1 in the first two matches of group play. Both the Maldives and Afghanistan earned seven points in Group B, however the Maldives ended on top of the group table on account of goal aggregate.
Nepal will take on Afghanistan on Sunday in the first semi-final match of the SAFF Cup, while India will meet the Maldives on Monday, September 9. The Afghan game on Sunday will be broadcasted live on TOLO and Lemar TV. (Source: Tolo News)
---
---
Related Articles
Danish sports Brand 'Hummel' has agreed a deal to manufacture the first inbuilt hijab kit for the Afghanistan National Women's
Afghanistan's cricket team soundly defeated a combined Pakistan cricket team Wednesday in the first of six planned matches for the
The Afghan National Football Team left for Nepal early Wednesday to participate in the South Asian Football Federation Gold Cup