Afghanistan Gets Second Place at Fajr Taekwondo Competitions
in Sports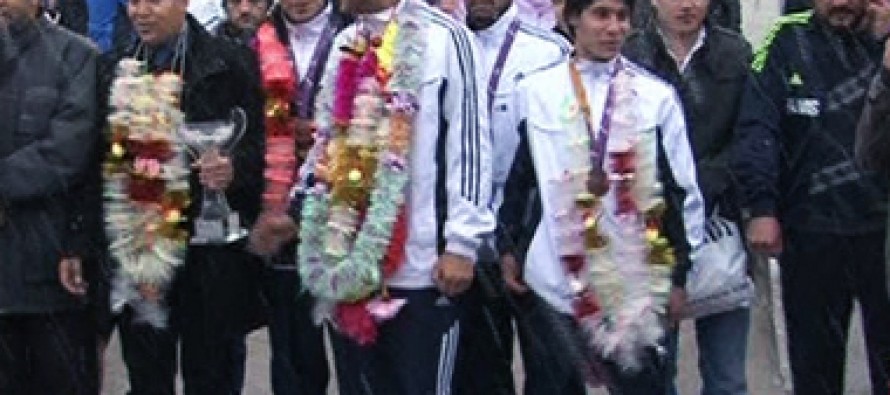 By Mir Sayed Sediqi- Tolo News
Afghanistan's national Taekwondo team returned home to a warm welcome after coming in second at the 24th international Fajr Taekwondo Competitions held in Iran, clenching 17 Bronze and 2 silver medals.
Female Afghan athletes outshone their male teammates, winning 11 of the 19 medals. This is the first time female athletes have outperformed male ones.
"We spotted our deficiencies and learned to improve in the future to get better medals," a female athlete told TOLOnews.
Afghan Taekwondo officials were happy with the team's performance.
"Our heroes successfully proved themselves at the competition," Abdul Saboor Omari, technical deputy of the Afghanistan Taekwondo Federation, told TOLOnews.
A crowd of Kabul residents flocked to the airport to welcome the athletes.
Afghanistan, Armenia, Tunisia, Croatia, Iraq, Serbia and three Iranian teams participated in the tournament. Afghanistan had 37 athletes in the competition.
Hosts Iran came in first, with Armenia trailing Afghanistan at third.
---
---
Related Articles
The Afghan national cricket team won its third contest against the Namibian national team at the ICC World League Championship
Tied after 105 minutes, Germany used a late goal from substitute Mario Gotze in the second half of extra time
Real Madrid's forward Cristiano Ronaldo was awarded with the Ballon d'Or , football player of the year, for the third