Afghanistan Qualifies for AFC Challenge Cup
in Sports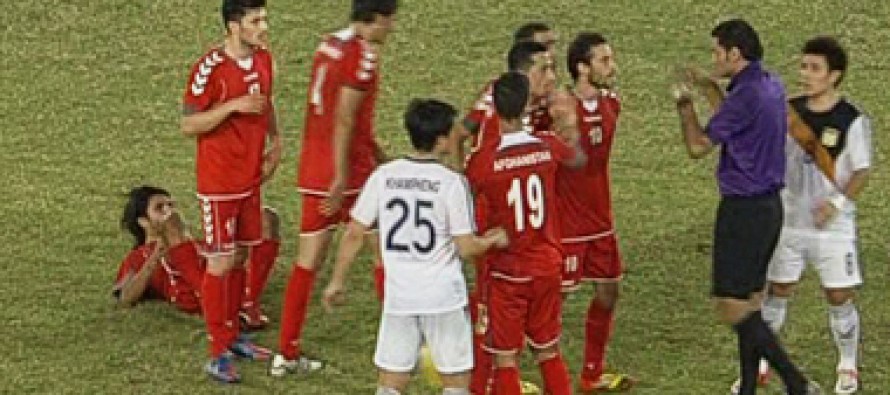 Afghanistan will compete in the 2014 AFC Challenge Cup after a nail-biting third match in the qualifiers in Laos on Wednesday.
The Afghans drew with host country Laos 1-1 but qualified because they had won their previous two matches in their group.
Laos scored first with a goal in the first half at the 29th minute.
The first half ended 1-0 with one of the Afghan players Jalaludin Sharyate dismissed from the field in the 40th minute after receiving two yellow cards.
Afghan coach Yousuf Kargar was soon followed after he was banned from the field following an argument with the referee.
However, despite being one player and a coach short, the Afghan team fought back, scoring the equalizer in the 57th minute from the boot of Arash Atifi.
It follows victories over Sri Lanka 1-0 on Saturday and Mongolia 1-0 on Monday, with both goals scored by striker Belal Arezou.
Eight players from last year's Afghan premiere league (APL) are playing for the national team, six of whom are playing with the national team for the first time.
These six were drawn from the Kandahar, Kabul and Herat APL teams.
In the Laos qualifiers, 20 international teams were placed in five pools of four teams each. Seven teams – the winners of the five groups and the two best second-placed – will qualify to play in next year's Challenge Cup to be held in the Maldives city of Malé.
The AFC Challenge Cup began in 2006 and is held every two years. (Tolo News)
---
---
Related Articles
The Afghanistan national cricket team was declared winner of the Zimbabwe series after winning One Day International (ODI) and one
Khabib states that Conor has "lost his mind" after reports of Conor punching an old man in a pub over
The Afghan National Football Team finished a 0-0 draw against the Maldives on Friday, but is still set to face-off