Oqaban Hindukosh qualifies for the RAPL semi-finals
in Sports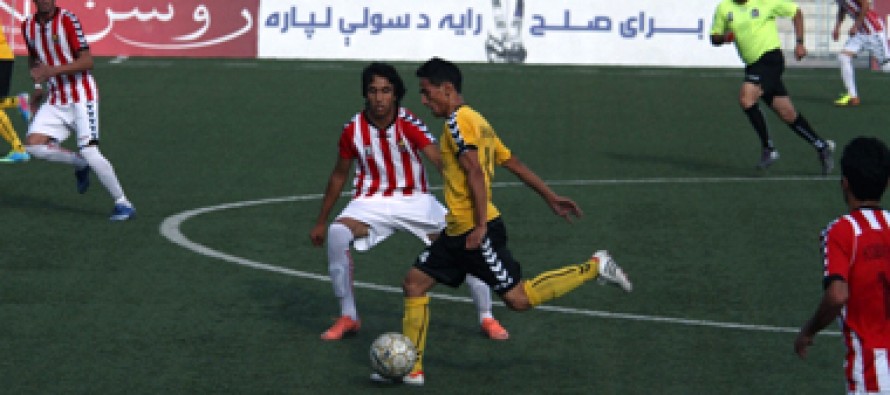 The match between Shaheen Asmayee and Oqaban Hindukosh in the 2013 Roshan Afghan Premier League (RAPL) held on Monday, ended in a 1-1 draw; and Oqaban Hindukosh qualified for the semi-finals with seven points.
In the first week of the season, both the teams had faced each other, but the match was cancelled, and it was decided that they will play another game on Monday.
The match was kicked-off at the Afghan Football Federation (AFF) Stadium in Kabul city.
During the first half, Shaheen Asmayee forward Hashmatullah Barakzai (#10) had no difficulties scoring the first goal only three minutes into the half. In the 16th minute, Hindukosh earned a free kick near the right corner flag. Free-kick taker Anwar Karimi (#11) fooled the Shaheen Asmayee wall by rolling the ball softly to the top of the box, where midfielder Mobin Rasooli (#6) needed just one touch to dispatch the ball off the crossbar and into the net.
Shaheen Asmayee tried hard to score another goal but failed to foil a strong Oqaban Hindukosh defense led by captain Farhad Paktyawal (#5). The game reached halftime with both teams having scored one goal each.
In the second half, Barakzai hit a free kick from 20 meters over the bar in the 60th minute, which was saved by Oqaban Hindukosh substitute goalkeeper Ali Jabeer Laly (#1). Toward the end of the half, the ball rarely left the Oqaban Hindukosh half.
Tofaan Harirod, Simorgh Alborz and Oqaban Hindukosh are the teams that have qualified for the semi-finals.
On Thursday, Mawjhai Amu will face De Spinghar Bazan. Amu has managed to earn only one point and De Spinghar Bazan has lost all the matches it has played. As a result, both Mawjhai and Bazan have failed to qualify for the semi-finals.
On Friday, Shaheen Asmayee will face De Abasin Sape. So far, Asmyaee has earned four points in Group B and De Abasin Sape has managed to gather three points in the same group. However, only one of the teams will enter the semi-finals.
Hamidullah Karimi (#11) of Tofaan Harirod is the top goal scorer of this season with four goals in his kitty. Muneer-ul-Haq Nadim and Fayaz Azizi of Simorgh Alborz have been placed in the second and third place, respectively.
The RAPL matches are being televised live on TOLO and Lemar TV. (Source: Tolo News)
---
---
Related Articles
Afghanistan participated for the first time in the Embassy Cup 2015 football tournament which was held in Oslo, Norway. The
Afghanistan is through to the Cricket World Cup in 2015 after beating Hong Kong by 7 wickets with 17 balls
The 2013 World Taekwondo Championship was kicked off on Sunday at a ceremony in Puebla, Mexico. Unfortunately, Afghanistan's taekwondo team