President Karzai meets with APL
in Sports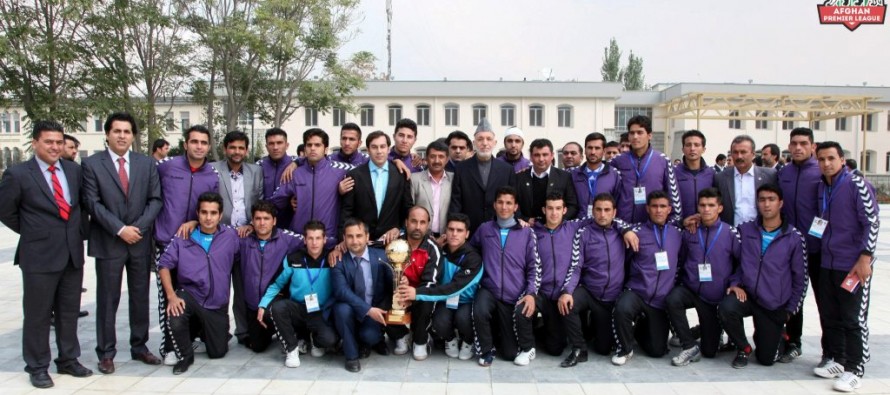 About 122 people from the Roshan Afghan Premier League (including staff of APL, the Afghan Football Federation and 4 teams who made it to the semi-finals of the APL) were invited to the Arg Palace to meet with the President of Afghanistan, Hamid Karzai.
In a meeting that lasted about an hour, the President made a point of shaking every single person's hand, and was very encouraging with the players. The President specifically thanked the people involved, and earned a round of applause when he said that the APL is a very positive step towards building a strong football team in the future, one that can not only beat Afghanistan's neighbors, but also European teams.
Karzai also mentioned the ability of football to link our different provinces despite geographic, ethnic, religious and language differences, which the APL is proud of.
It was obvious from the President's comments that he had seen many matches and had seen the entirety of the final match. The young players were very much heartened by meeting with the President and the President's interest in football.
The discussion ended with a photo session outside where he took photos with the teams and groups of people.
The fact that the president would see such a group is a huge precedent in itself. Previously he has seen many sports teams, but only after they have had some form of international success. This is perhaps the first time that the President has agreed to see such a large group of people in relation to a domestic sports event. The symbolic importance of the meeting with the President, and his warm and positive remarks, was an indication that the Presidential Office sees the APL as a truly national event which cuts across all other domestic issues.
 The APL Commissioner, Shafic Gawhari, said, "The President's positive remarks not only inspired the teams, but is also a boost to the thousands of young Afghan's who love football and witnessed the APL's success.
For more:
http://www.tolonews.com/en/afghanistan/8027-karzai-meets-praises-afghan-football-champions
---
---
Related Articles
Mohammad Shahzad became the first Afghan player to be awarded the ICC Associate/Affiliate Cricketer of the Year. He got awarded
The Afghan National Cricket Team qualified for the 2015 Cricket World Cup, after defeating Kenya in the last match of
English Premier League is expected to sign an agreement with the Afghan Football Federation (AFF) in Dubai within two months.